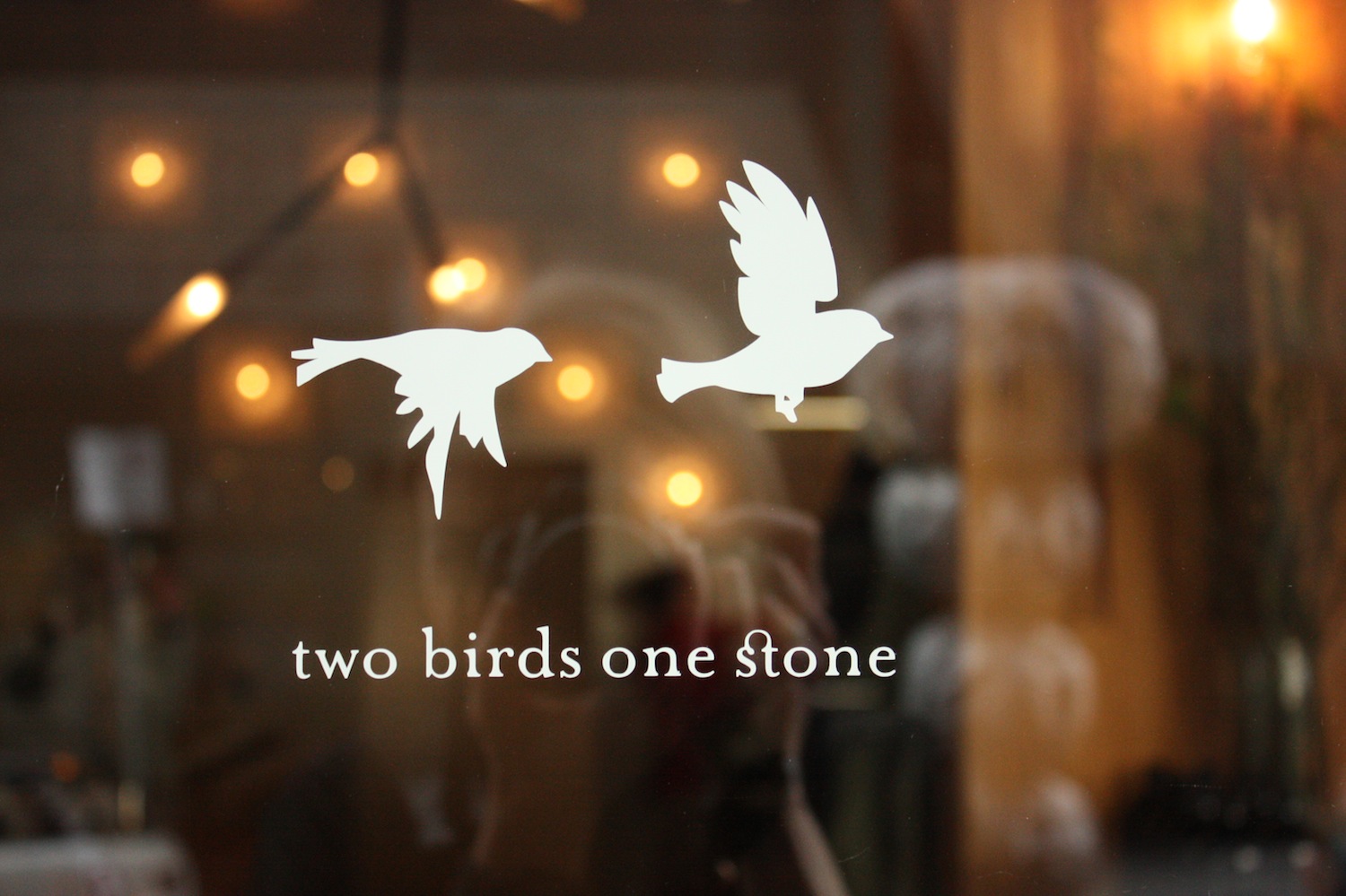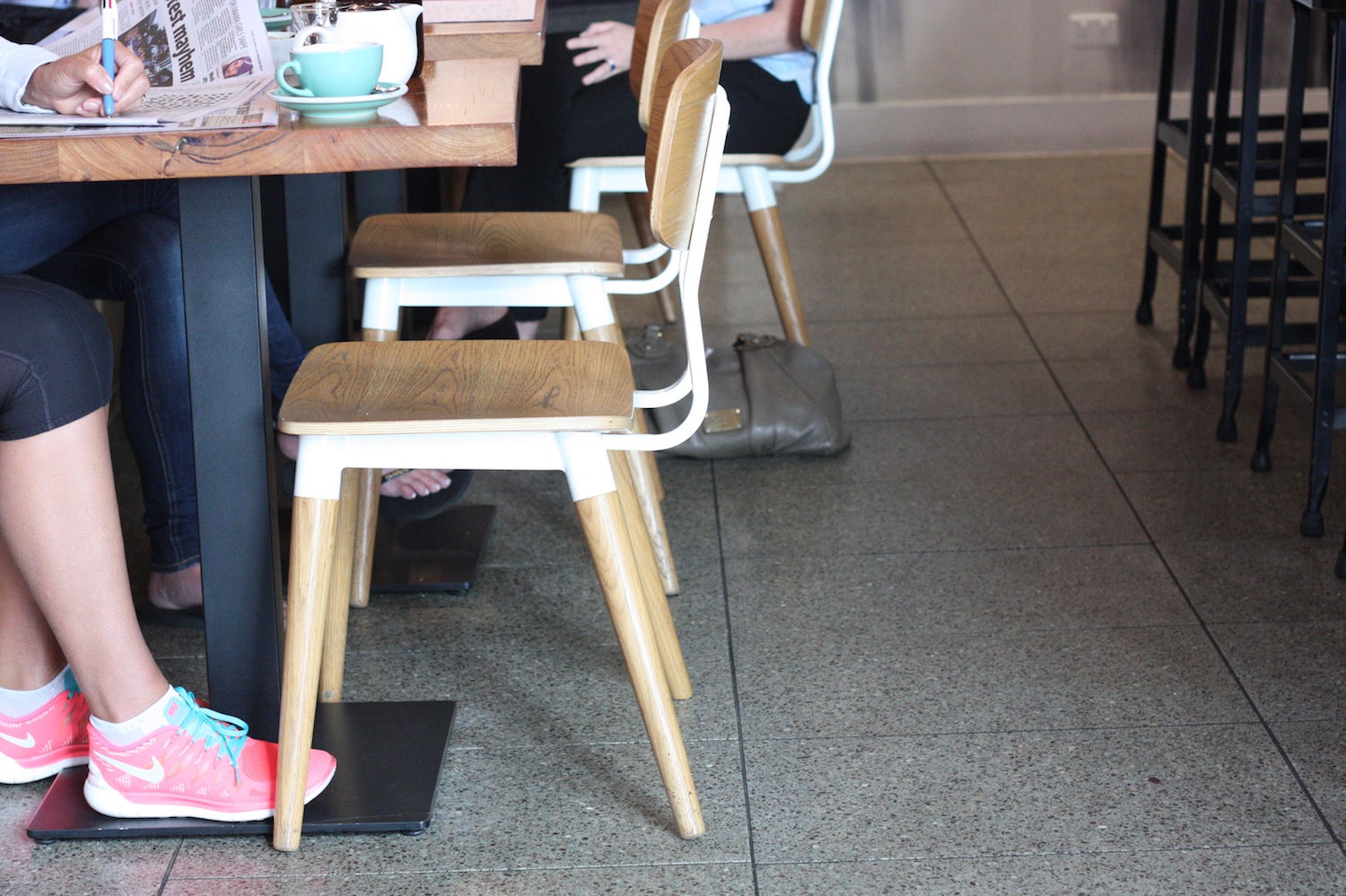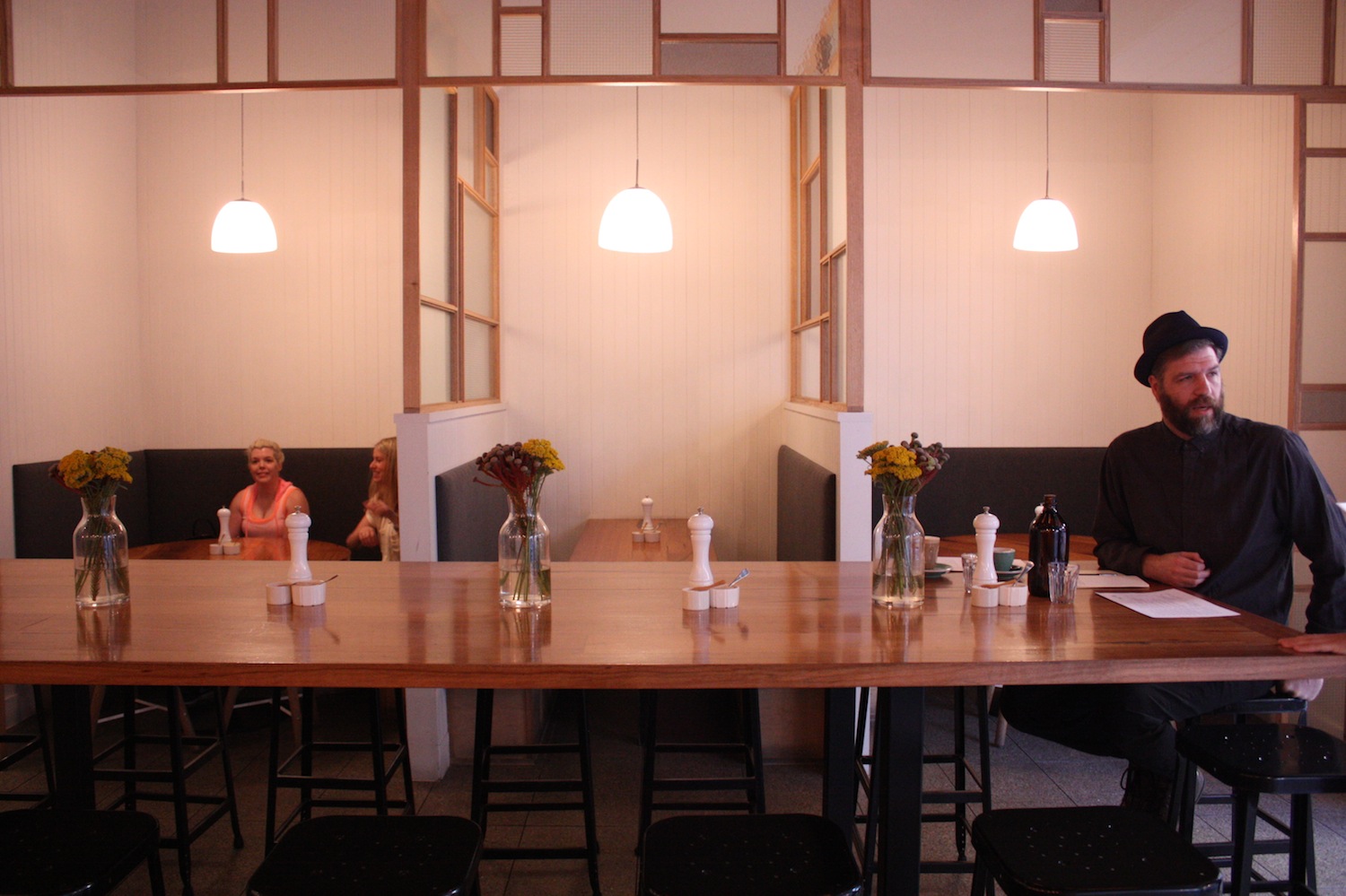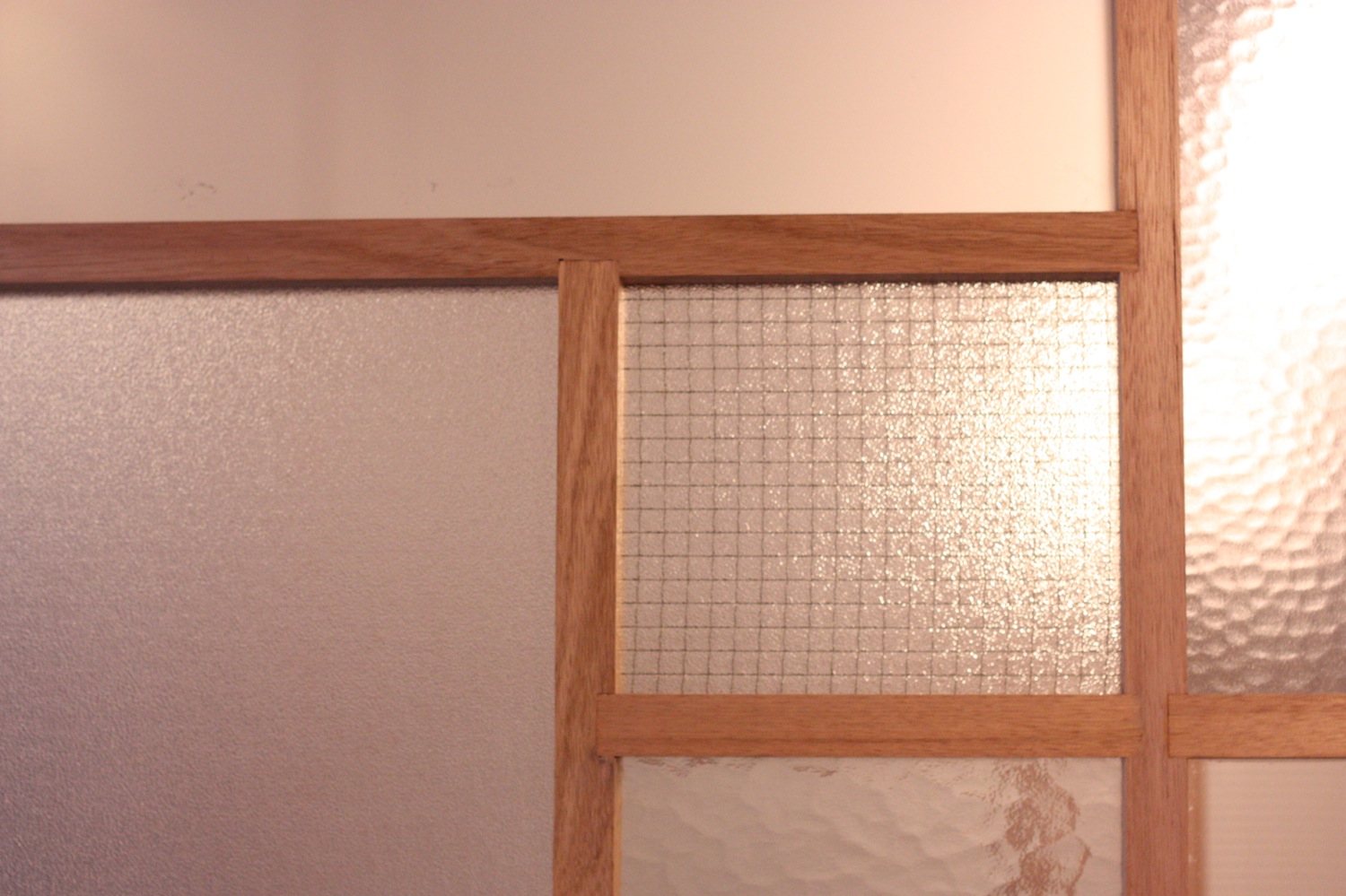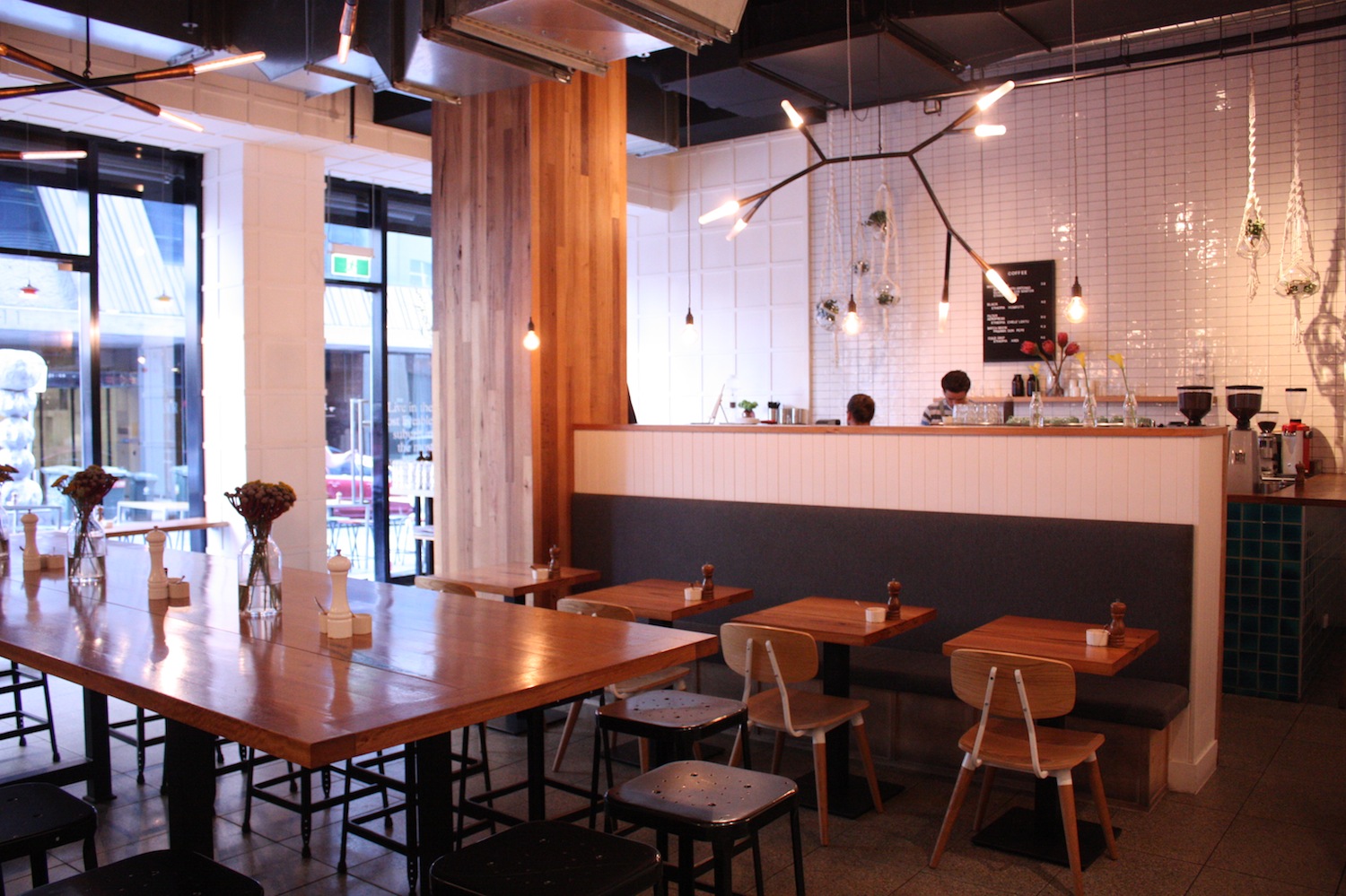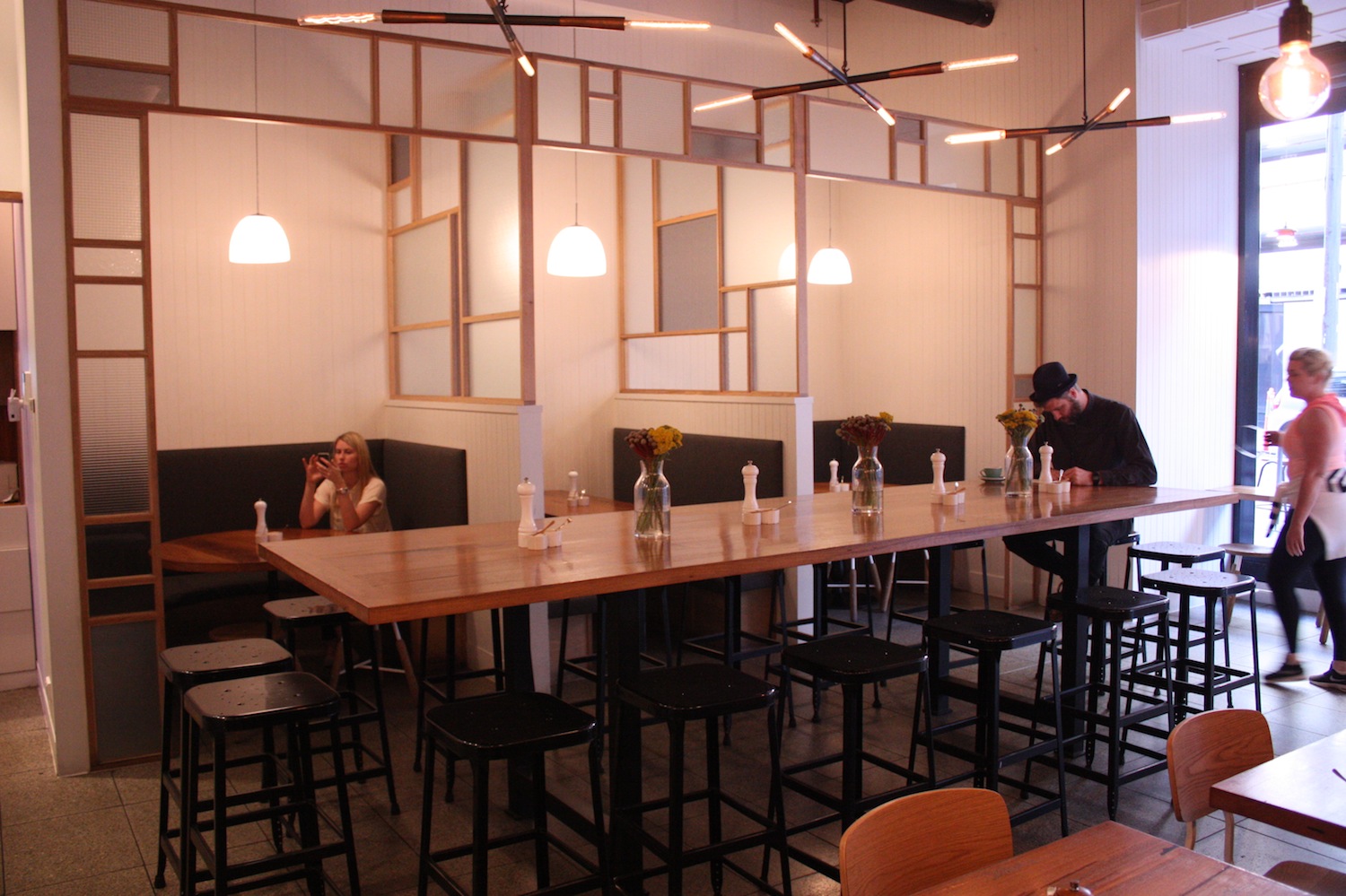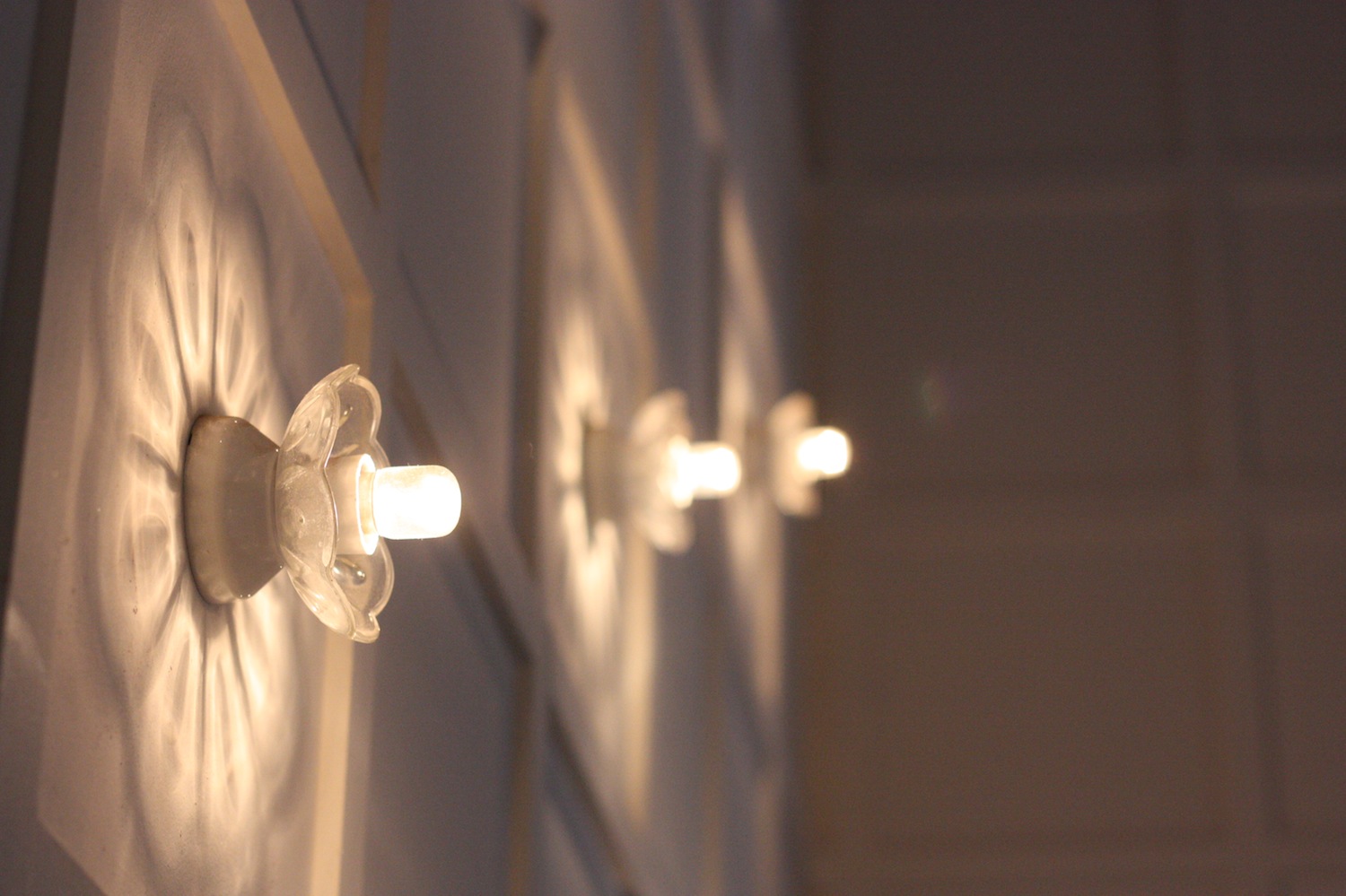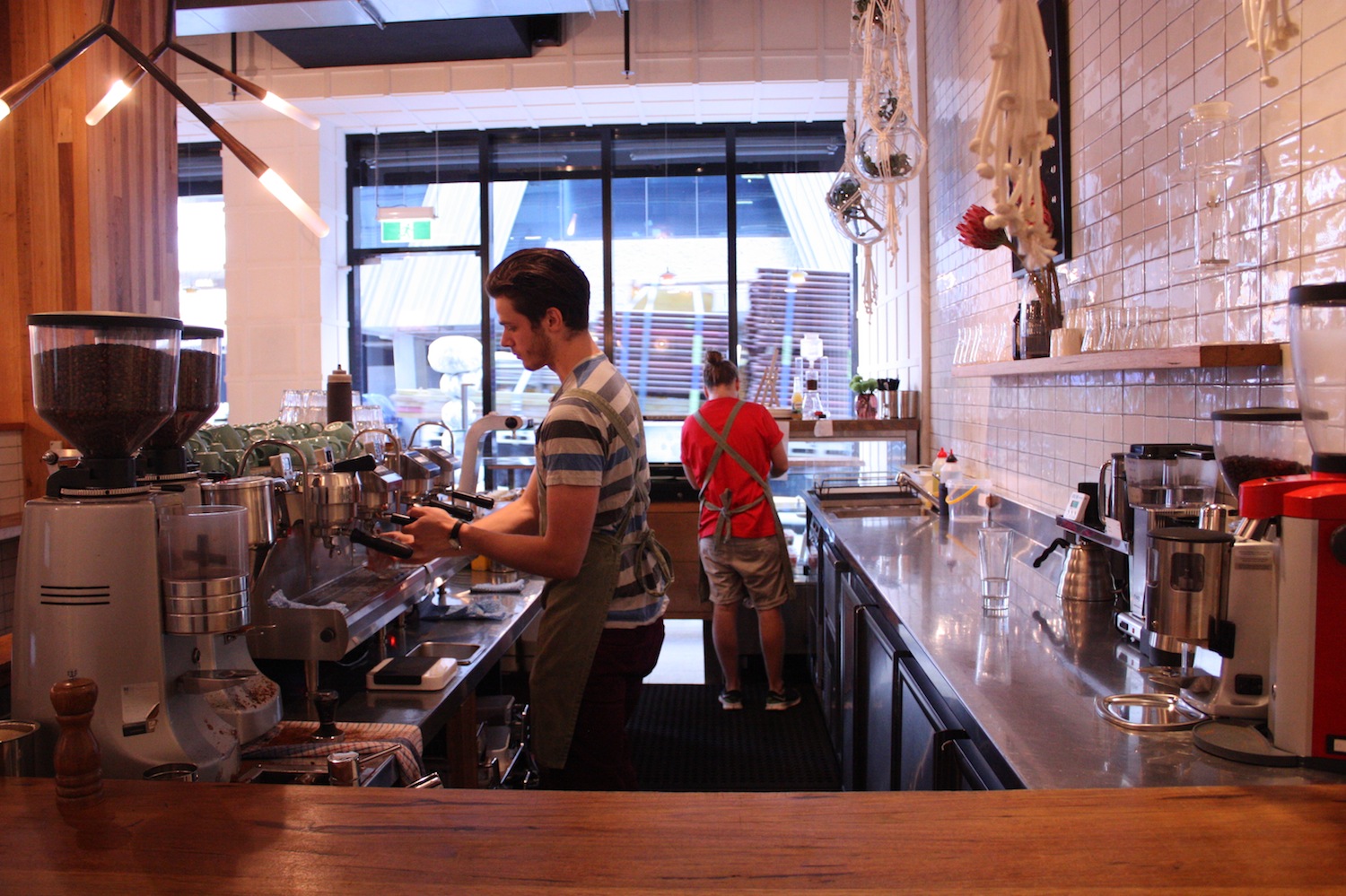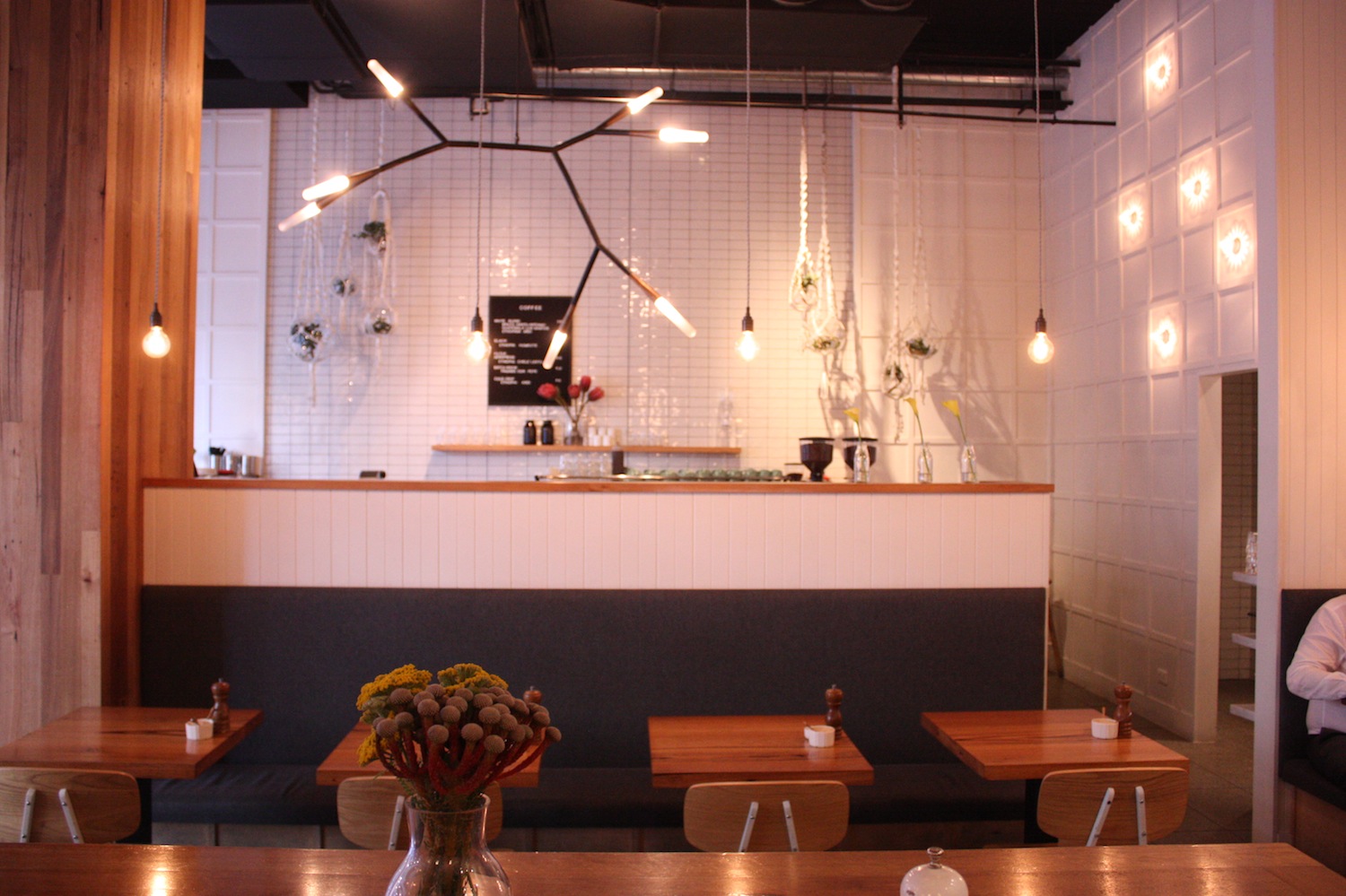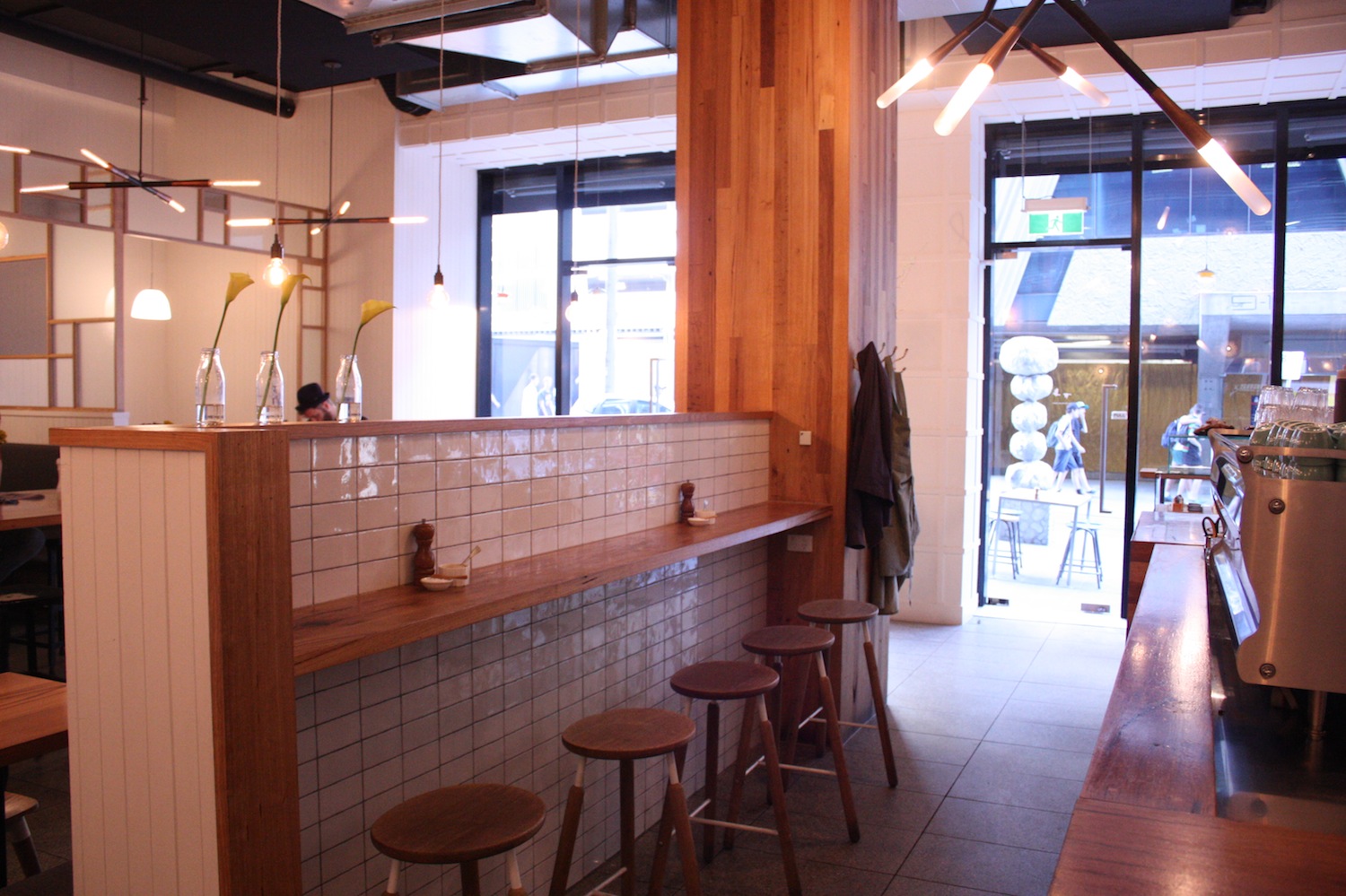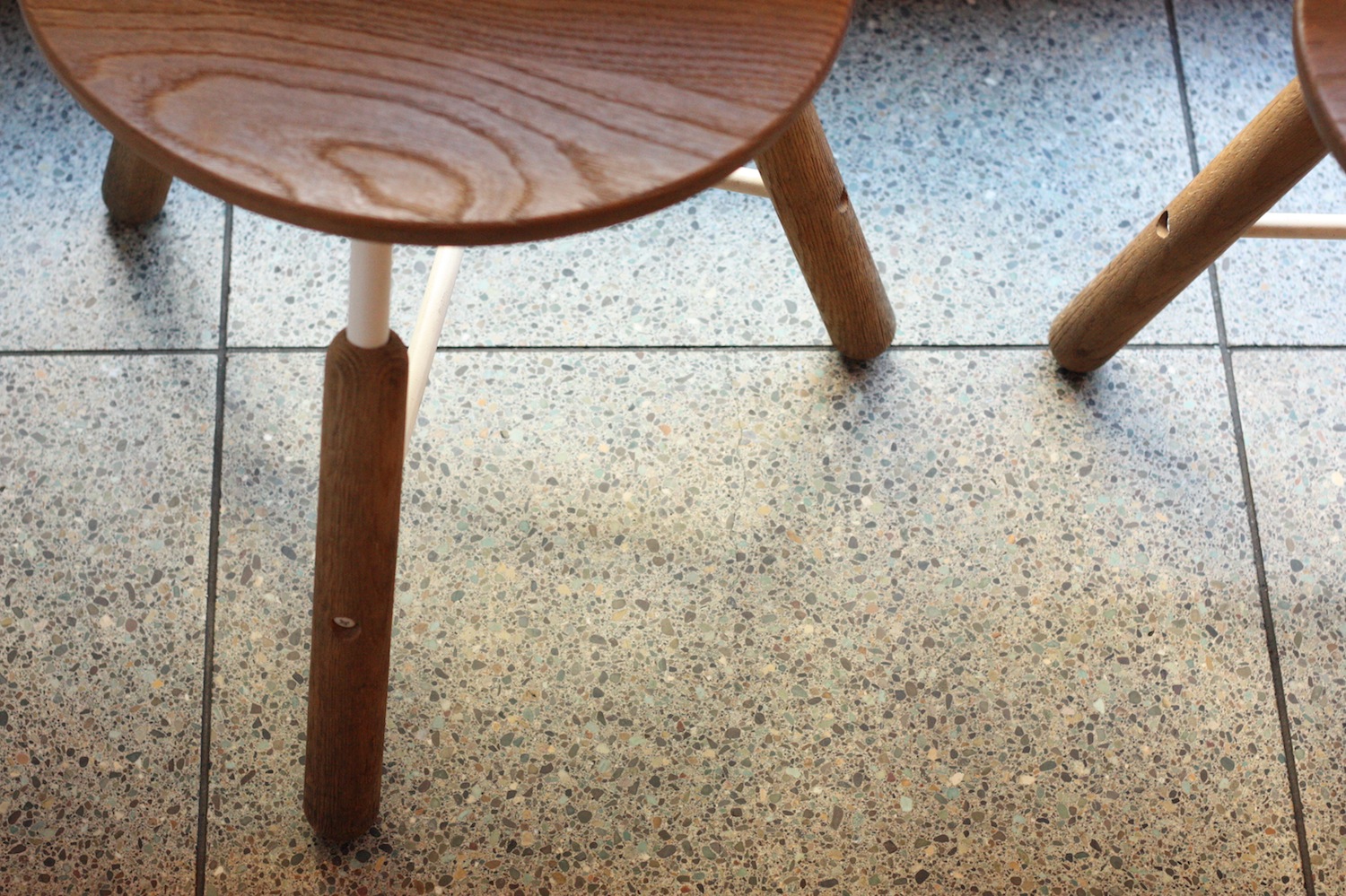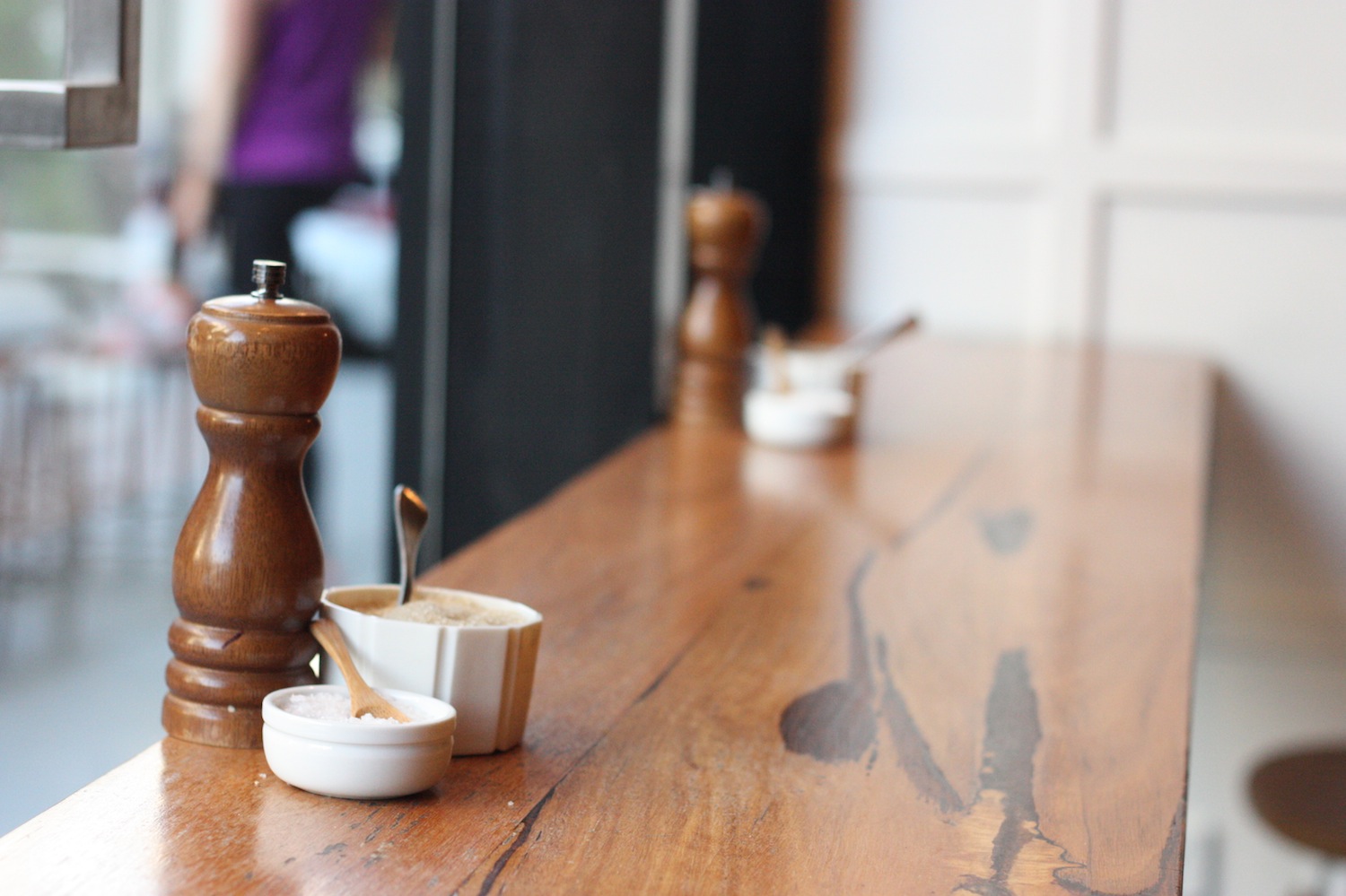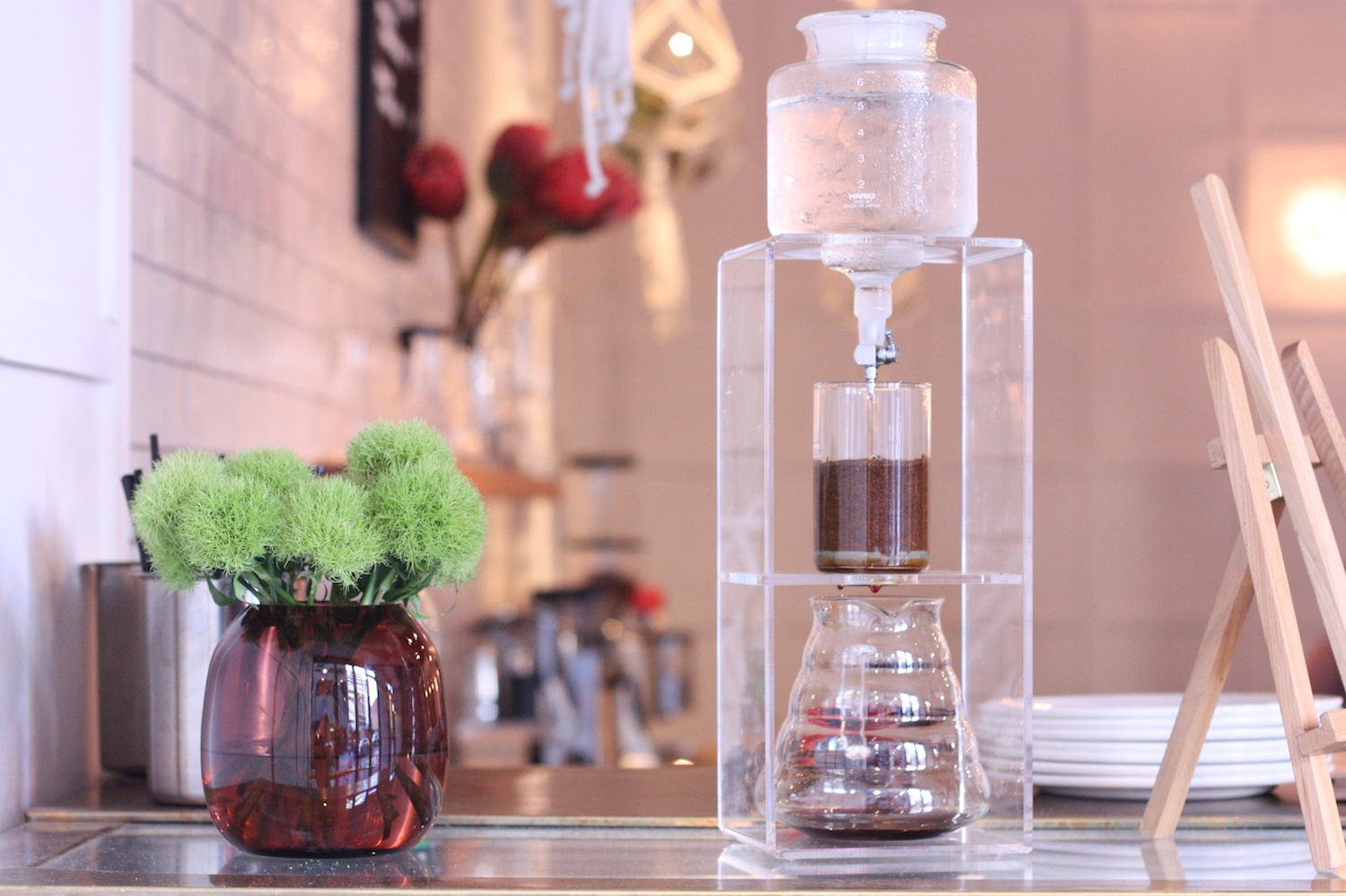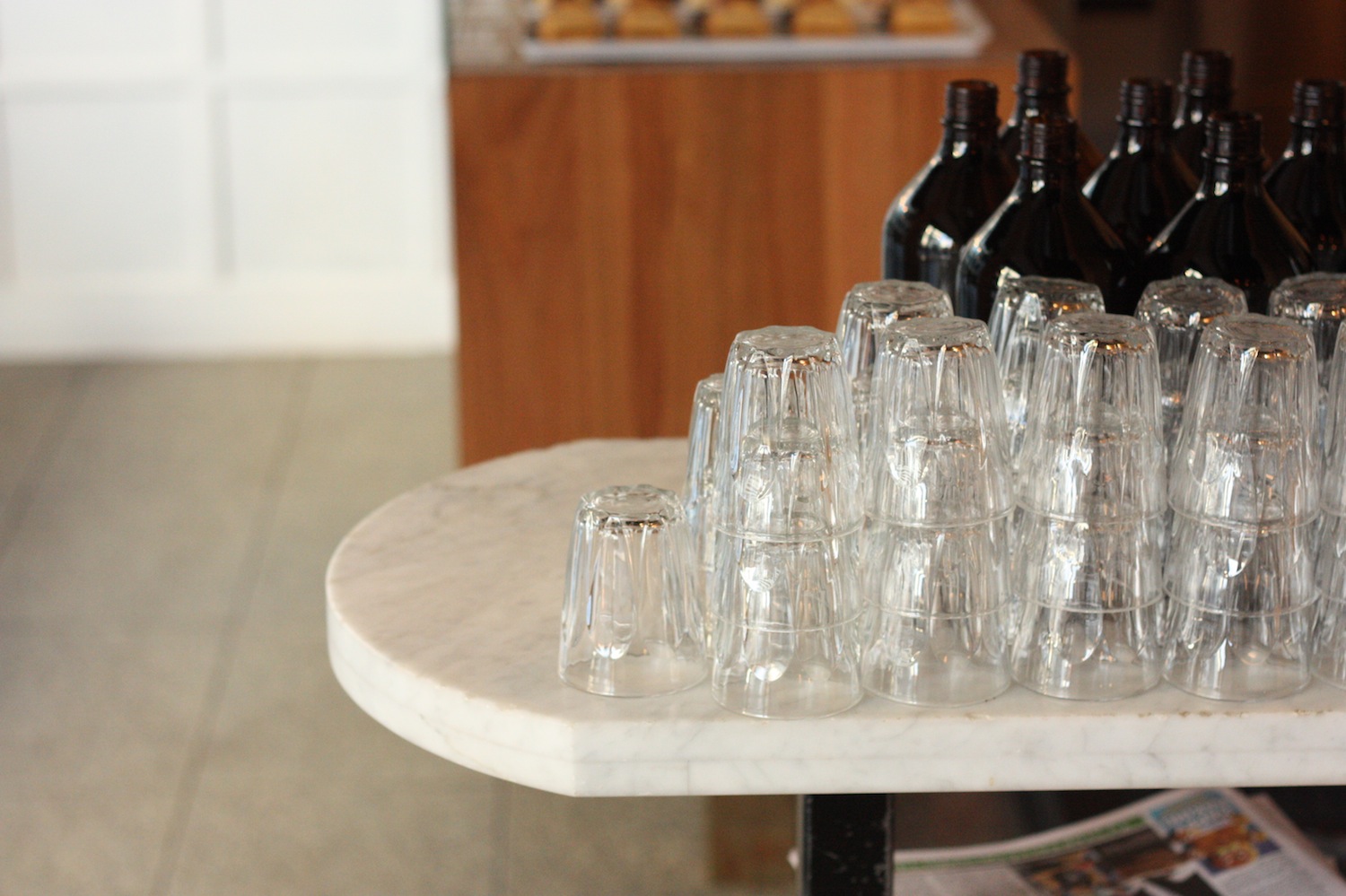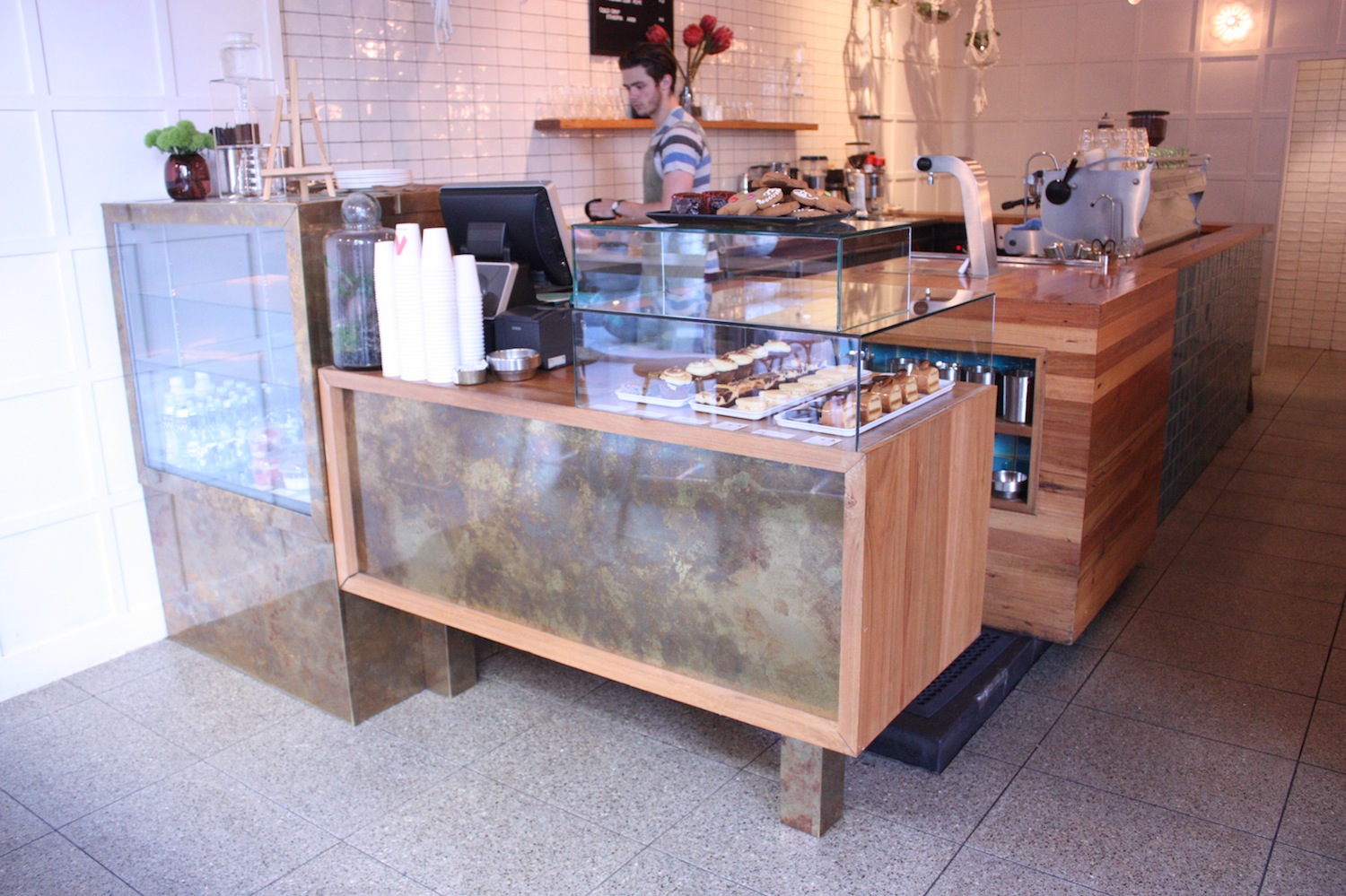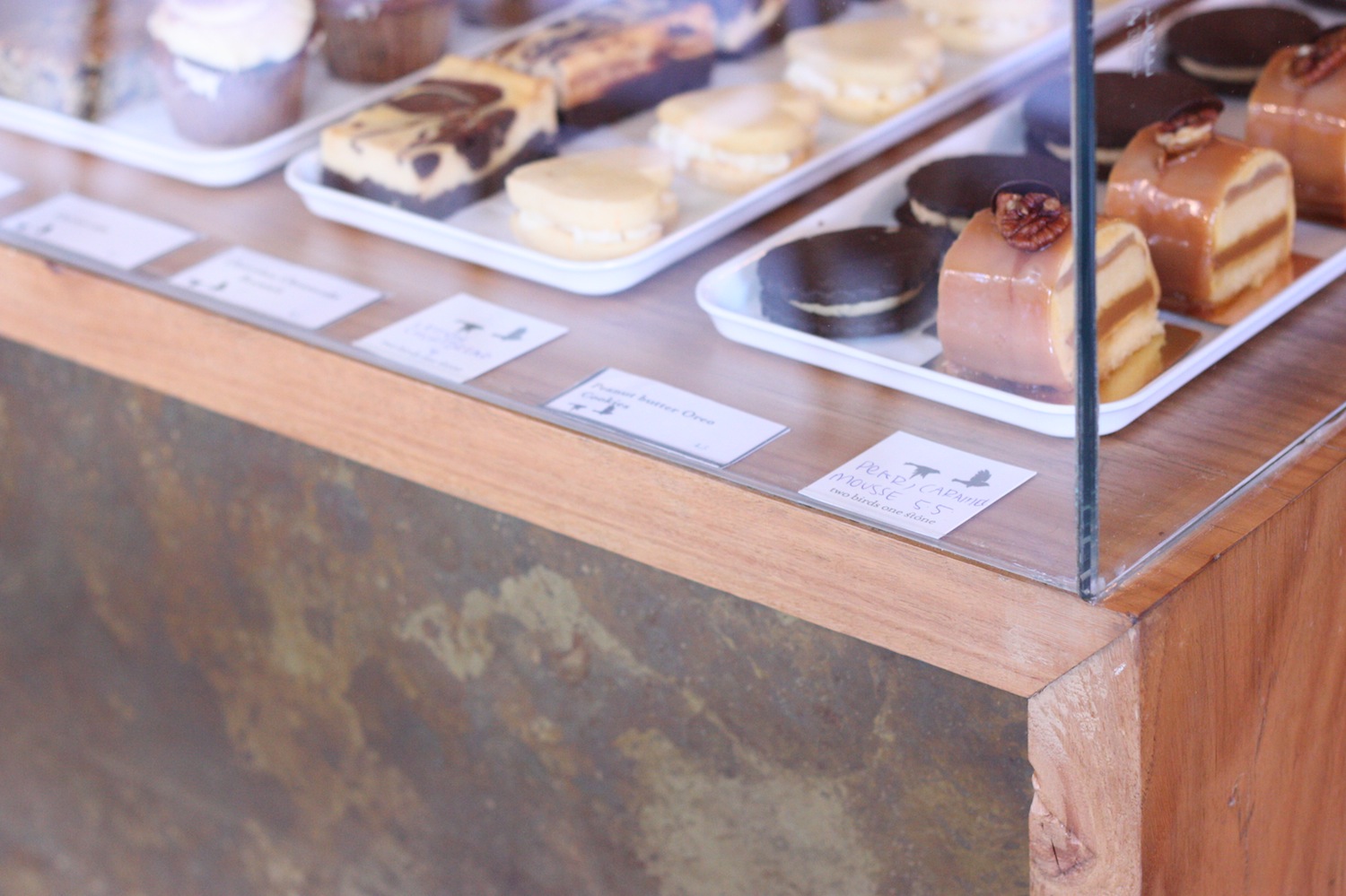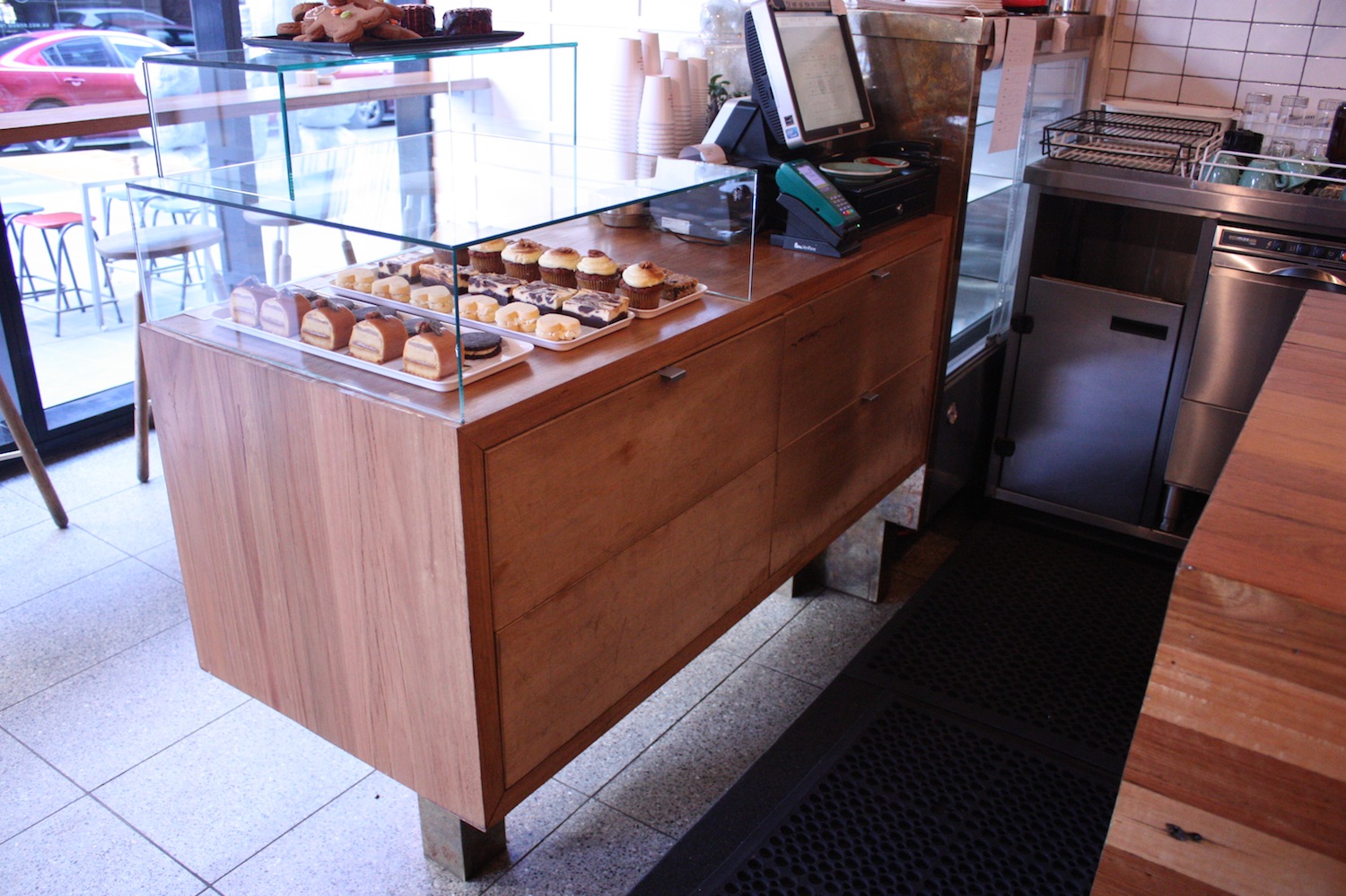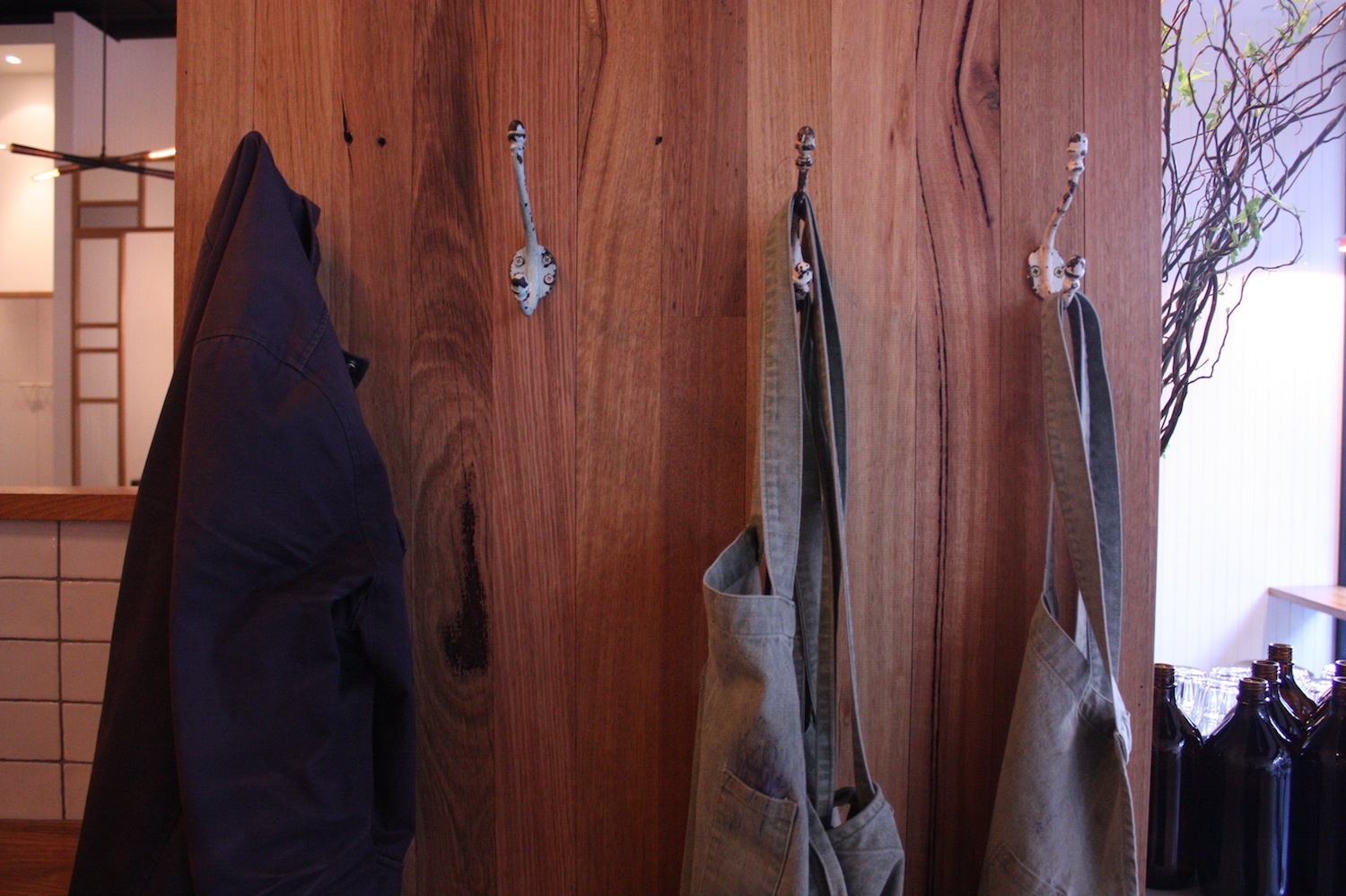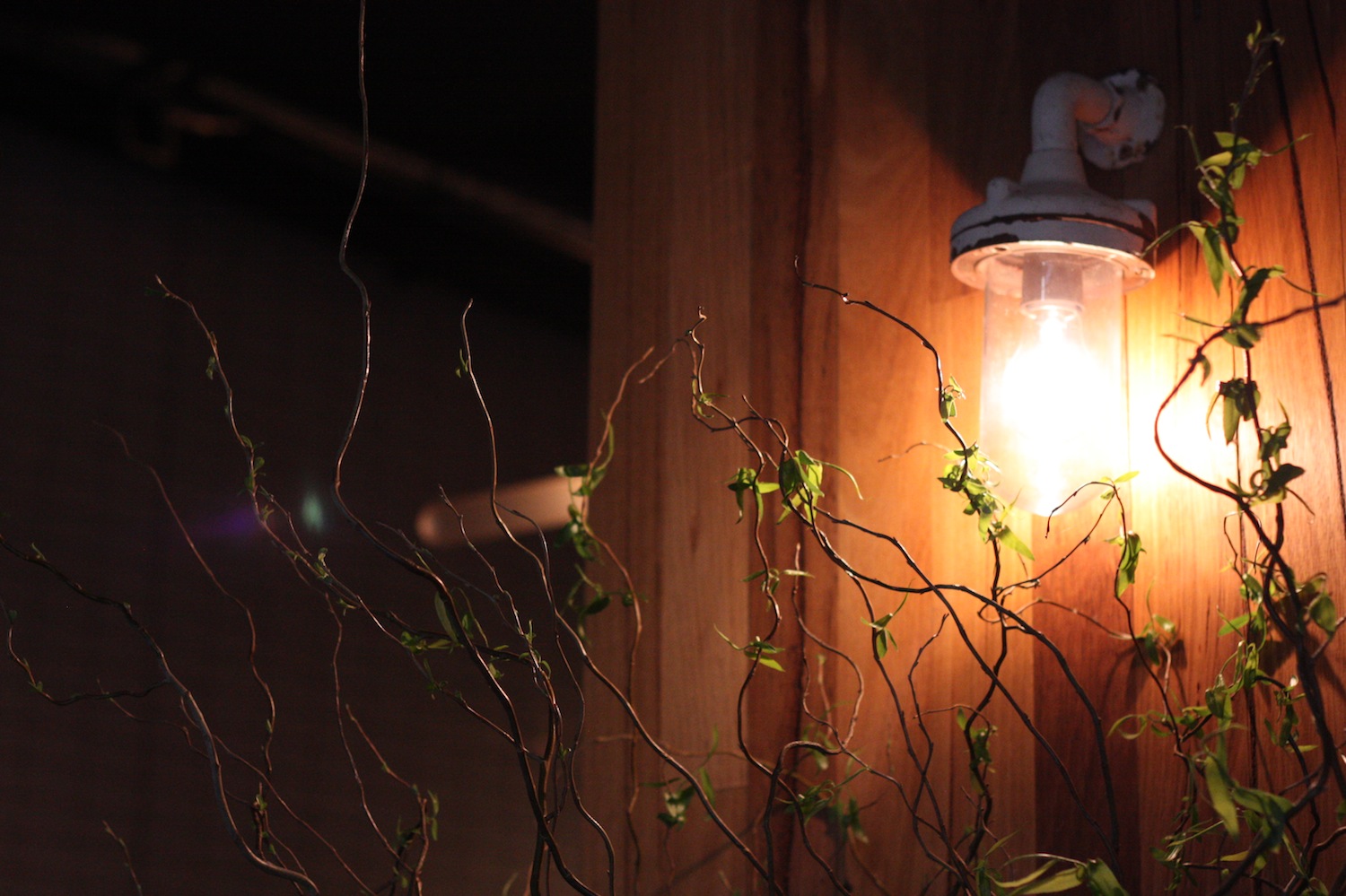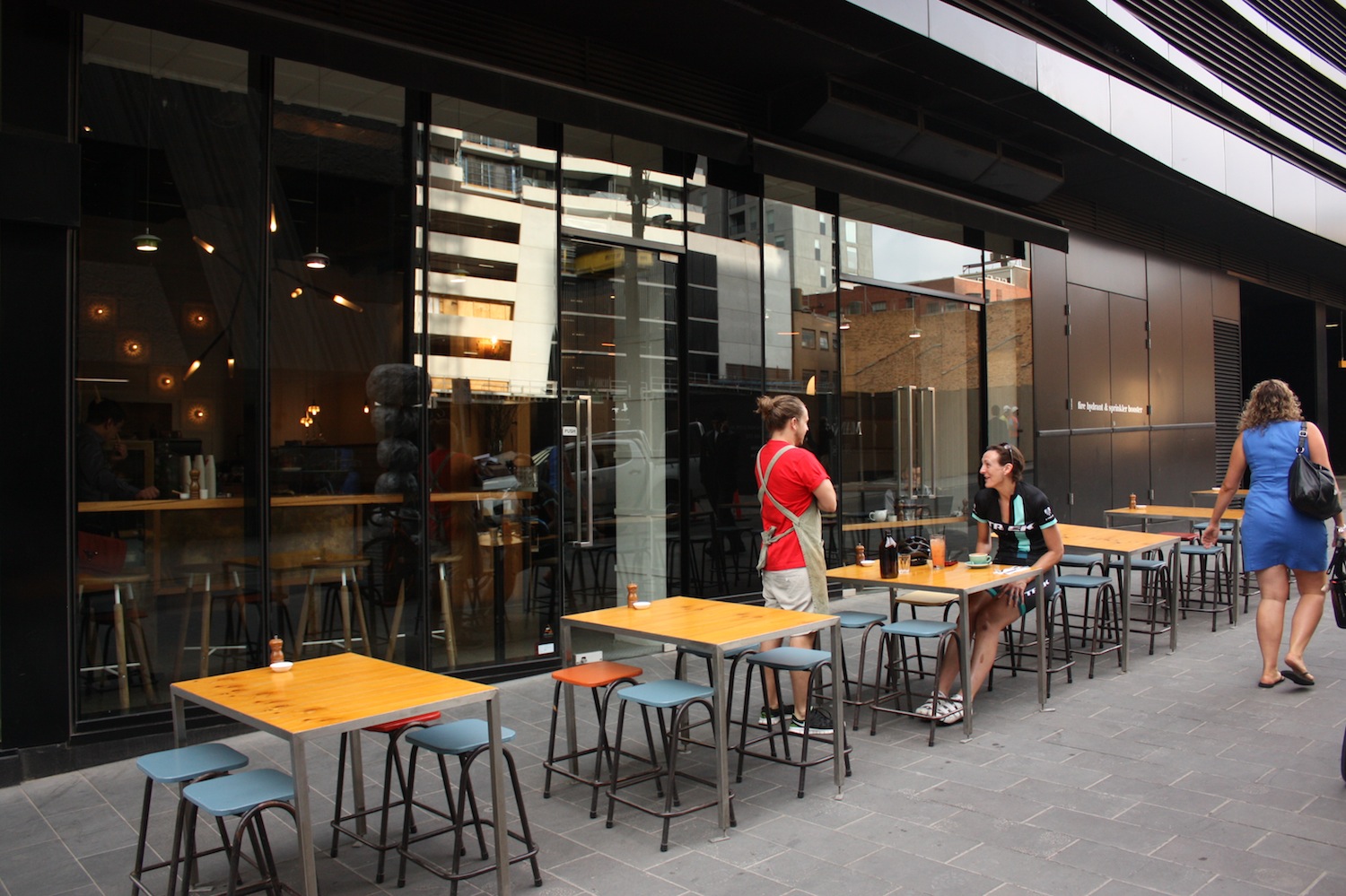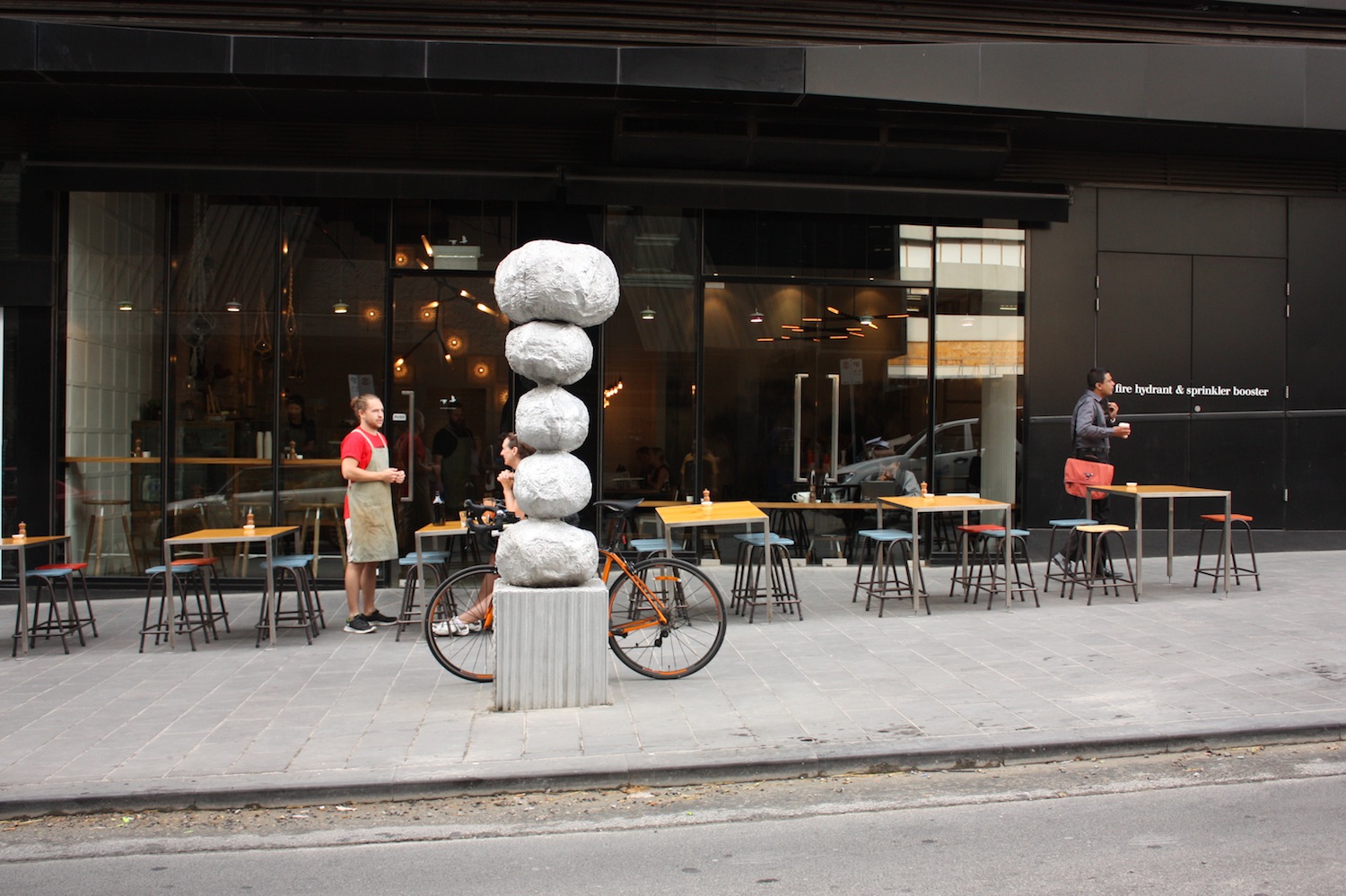 Name: Two Birds One Stone
Address: 12 Claremont St, South Yarra
Web: twobirdsonestonecafe.com.au
Served by: James
So it's getting to the end of Project 52. And I'll be honest. Super Tectonics is tired. Exhausted actually. With now 47 café design reviews down, it's crazy to think we have even been able to find this many great places to visit. We are struggling a bit moving towards the end of the year, it's getting busy, project deadlines are rolling, but then you stumble upon a café like Two Birds One Stone and it just restores the energy to keep on going – 52, we are almost at you!
So what's good about Two Birds One Stone? (TBOS)
Just like in real estate it's all about "Location, Location, Location" two birds is all about another 'L' word…"Lighting, Lighting, Lighting". And it feels so good to be getting so close to the end of Project 52 and discovering an establishment that places so much value on the impact of lighting and it's ability to transform and enhance space. So much so that before we started taking photos, James from the café was quick to ensure all lighting levels were at optimum ambiance levels – Lighting nerd!!!
The interesting aspect of TBOS is that they have combined a huge amount of lighting types in really what is a relative small area. The reason why they can get away with this however, is due to the height of the interior space. TBOS is vertically huge – voluminous! Located at the bottom of a mixed-use commercial development TBOS inhabits the ground level tenancy, which has generous ceiling heights. But the good thing is, you never feel dwarfed by this.
The most decorative and captivating lighting / design feature is the panelled white quadrant wall with selected scattered wall mounted globes. It doesn't sound dramatic, but by placing a delicate patterned glass vessel around the base of the globe, throws the most beautiful lighting pattern in a circular surround.
Simple exposed hanging globes are then focused above the more private open areas (2 seaters, bench table etc) with some dedicated down lights/wall washers for the service area which also throw some beautiful reflection of the huge double height brick tiled white gloss wall.
Moving from the front of house service area to the open space dining zone behind, quaint booths are highlighted with a simple frosted pendant. Shopfront benches facing out to the street have a quaint inverted teacup and saucer fitting suspended over each low bar. But the last key to the puzzle is some amazing Christopher Boots Simplex Pendants. Suspended over a substantially oversized communal timber table with perfect views across to the amazing BCCA pendant. Everyone, it's a Christopher Boots lighting party and guess what? We are all invited!!!
This sounds like a lot of lighting in one space, but it works because the space is proportionally big enough to take it. And my God, it works damn well.
With lighting out of the way, lets focus on the other designed elements. The café itself has a wonderfully zoned layout. In front of the counter is the takeaway/point of sale area with quick high bar eat-in zone. A perfectly sized, part height wall which houses a banquette seat with smaller, 2 person tables on the other side separates this area from the main counter. The large communal timber table with a spectacular amount of structural steel framing underneath - allowing a hug cantilever (nice work structural team) - then sits proudly in the space. Finally, adjacent to this huge table is 3 small booths, allowing more privacy in these little nooks. But the good thing once again, is that with such high ceiling spaces the booths actually feel quite spacious. The circulation is almost palatial, until the café starts to fill up rather rapidly and then you realise the circulation space is actually spot on.
The material palette is simple, but the textures and panelling applied to walls (vertical joints, gloss tiles, wallpaper, quadrant grid etc) is quite brave. Once again, due to the height of the space, you can have this much panelling as it draws ones eye up. But if the ceiling was lower, you couldn't get away with it and this is where TBOS have really exploited their best feature – their height and volume!
What could be better about Two Birds One Stone?
Super Tectonics was divided about one design element… the inverted teacups lights in the front windows. Although they were quaint, they almost felt too kitschy. Especially in close relationship to the Christopher Boots lights. Although, the teacups did reference the glass dish lights on the other wall so there was some direct 'crockery' reference here and we did appreciate that literal approach.
An always-interesting conundrum in hospitality fit outs is the choice of skirting material and how well it wears. The timber/plywood skirting on certain elements is taking a beating and this shows through discolouration, scuffs and marks. It's a tough one, but we always say the skirting material should be tough enough to hide anything, or rough enough to repel anything.
Lastly, the booths with their beautiful glass grids screens were divine little nooks to sit in at a big circular table. However if you had to sit on the very ends, you need a small bum. The seat depth thins out too much and sitting here feels like perching instead of relaxing.
What's its thing?
Let there be light. Hands down, TBOS is the best lit café we have reviewed this year. Not only from a variety of pendants - which sat as sculptural elements in their own right - but also the way the light highlighted the built space and materials. These lights really put the café on display and draw your attention to the height of the room.
Defining Design Details
Booth Screens – A grid combination of the old shower screen glass, translucent glass, clear and coloured glass creates all highlighted by a fine timber frame gives such a beautiful play on light and shadow.
Christopher Boots Lights – damn this guy knows how to light a room. His lights are sculptural artworks – captivating, gravitating and purely beautiful yet functional objects.
Wall Panelling – Ahhh, this reminds us of our old days in QLD – the more wall panelling the better! And it's an easy way to bring texture to any stark space.
Furniture – some beautiful joinery items, but great loose furniture including the wonderful Copine Chair from our friend and super furniture designer, architect and man of many trades Sean Dix.
With only 5 more reviews left for the year we are on the hunt to end on a massive high – so be sure to get in touch with us if you have any recommendations for our next Project 52. We are currently working on bring you one last interstate review (come one QLD!!!) as well as a coastal Victorian review (happening this weekend!). Oh and get down to Two Birds One Stone ASAP. There is about a million multi-residential developments happening around it at the moment and when they are finished, you'll never get a seat again!