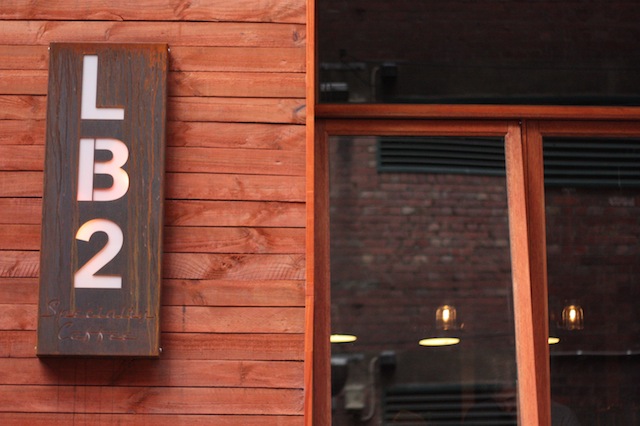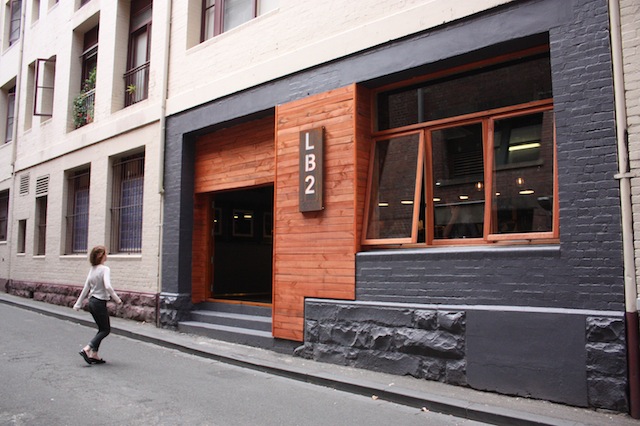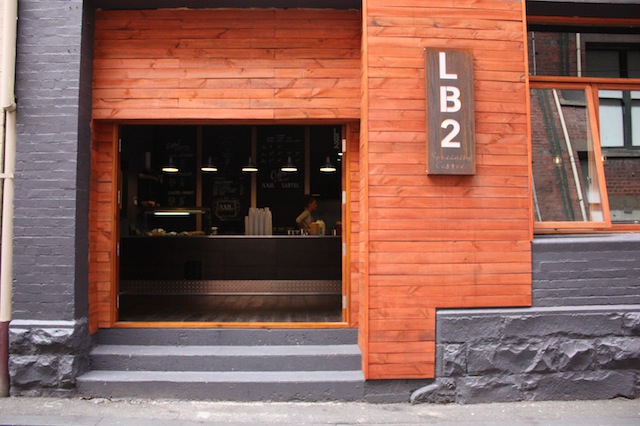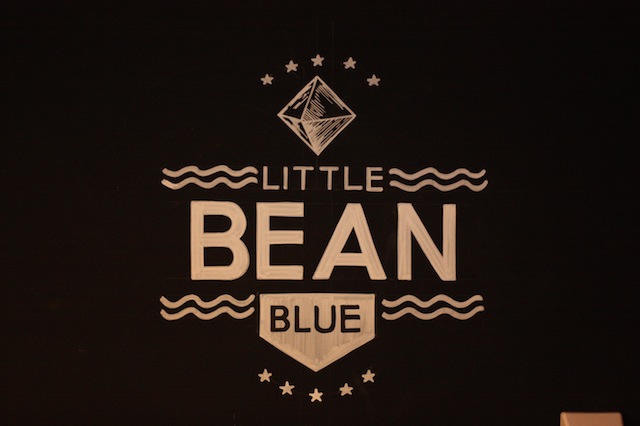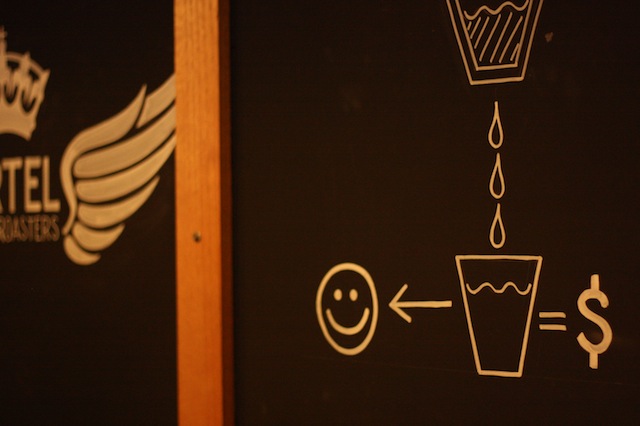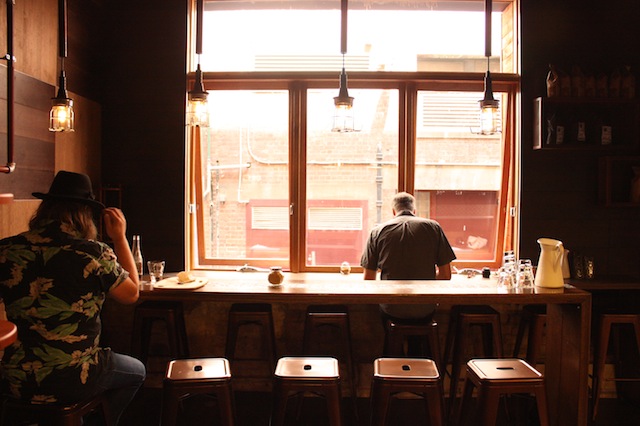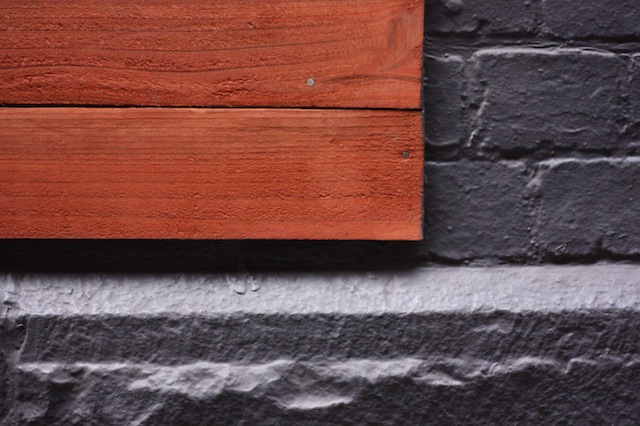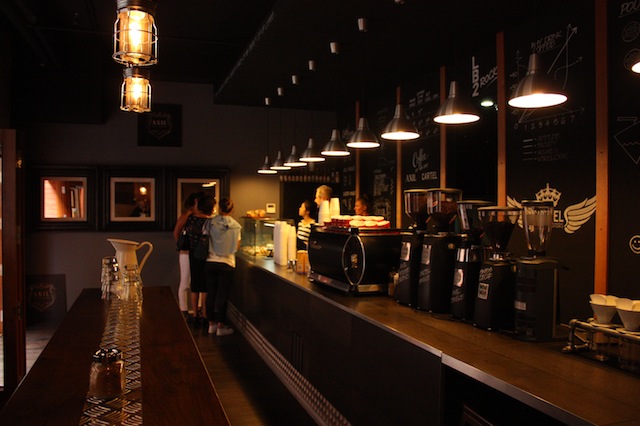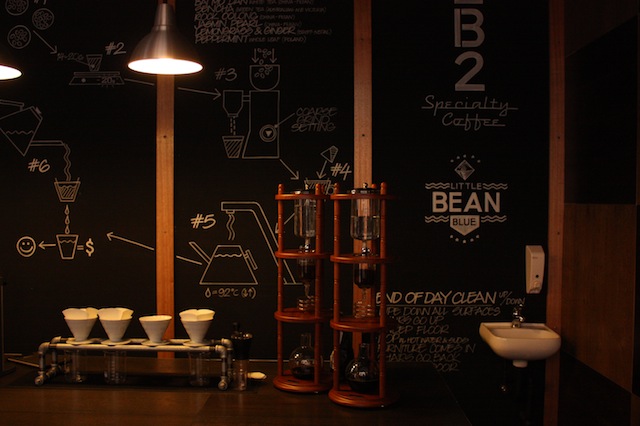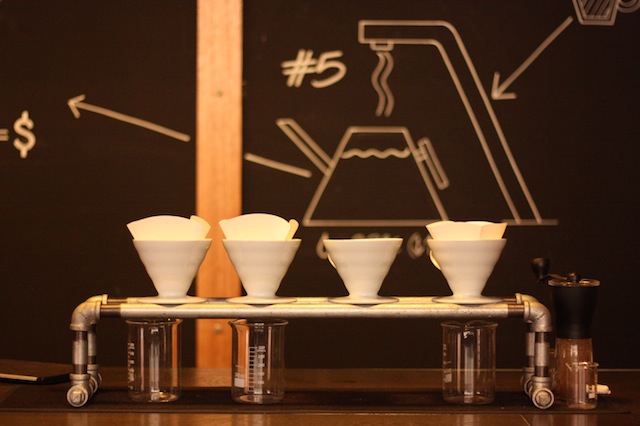 Name : LB2
Address : 2 Gallagher Place, Melbourne CBD
Web : https://www.facebook.com/LB2cafe
Served by : Robert Mancini
Design by : Robert Mancini
For this fourth edition of Project 52 – we've left the comfort of the inner suburbs and ventured to skirts of the Melbourne CBD grid to review the very new LB2. As the little sister of well-known café Little Bean Blue, LB2 has arrived with a good pedigree for third wave coffee at a time when this part of town sprouting what seems like a new café each week!
So what's good about LB2?
As we climb the concrete steps and walk through the timber clad entry, onto the timber flooring and look across the timber counter to the timber checkerboard wall, well you may think we're going to say that there is too much timber – but there isn't! This place is dark and moody, with generous usage of blackboard paint and dark stained timber and you know what? It's a nice contrast to the super light and airy whitewashed walls of most other cafes around town.
We spoke with LB2's ridiculously happy owner Robert Mancini and he told us that a lot of the materials used were actually leftovers from his residential build and the cafes previous renovation. The awesome jar pendant lights use tubing left over from the upgrade of the old sprinkler system and although some people would call this "Steampunk", (especially with the en-masse suspended silver pendants) we classified LB2 under a new term - "Remnant DIY" (but with a far better level of detailing!).
LB2 has a great rhythm - the repeated pendants at an appropriate scale (not like the ones used in The Stables – refer Project 52:03 review), the strips of timber covering the joints on the blackboard wall, the stools under the benches. This rhythm sets up a simple planning of the space. This high bar provides plenty of space to stand and wait for your coffee or you can sit on an old favourite…Yes Tolix stools are everywhere at the moment, but LB2 has used deep dark copper ones which are really unique.
Simple details make LB2 a really nice place to sit and drink coffee. The openable timber windows allow cool breezes in and are also perfect for sneaky people watching from a height whilst the low level lighting makes for a great atmosphere and hides any future wear and tear.
And lastly, the somewhat info-graphics on the blackboard walls are the biggest highlight for us. They are precise, interesting and enjoyable to read, communicating coffee process, coffee roasters logos and much more. The really animate this wall and distract you from the back of house area which is conveniently hidden behind.
What could be better about LB2?
Unfortunately there are some poorly selected finishes, which detract from the good design decisions. The use of a timber checkerboard wall is quite dated especially with stainless silver edges strips and although the timber is gorgeous and the detailing perfect, it looks too corporate. Add to this the use of checker plate steel as skirting and a decorative insert to the central bench and we've got an agricultural aesthetic that just seems odd.
Whilst mirrors can be used well from a design perspective to make a space feel bigger, the three big framed mirrors hanging on the main entry wall feel really domestic and out of place whilst the centre bench is too narrow for a high-bar to eat at, and could almost be kept as a purely stand up bench without the stools (a current café trend in Melbourne at the moment).
It's also a pity that finish of the timber on the exterior of the café is so orange, it looks like a bad fake tan against the rich chocolaty timber used on the inside. It's understandable that the timber needs to be treated for exterior application, but a more appropriately contrasted finish would work better or align the outside/inside colours to get consistency across materiality.
The business card graphics are great and they really align with the chalkboard wall. But the blue colour on the business card is the signature colour of LB2's sister café - Little Bean Blue. LB2 doesn't use this blue in their fit out anywhere except in the business card and it feels odd. It would have been great to use this blue somewhere in the LB2 interior, so that the business card didn't look so out of place and it is also as a great opportunity to tie the two cafes together in some subtle way.
What's its thing?
Due to a few dodgy design decisions, LB2 just isn't hitting the magic button from an Interiors perspective, but where they make a big impact is with the atmosphere. It's quite refreshing to go into a café during the day and sit somewhere that's dark and moody and all of their good design decisions make this possible. Plus their 'third wave coffee' approach - which is to treat coffee as artisanal foodstuff - is literally on display with their coffee processes and paraphernalia.
Defining Design Details
Remnant DIY – Ingeniously using bits and pieces from previous renovations – hello sprinkler tubing!!!
Timber – it's all over this place, and you just want to touch it
Blackboard Super Graphics - Neat and tidy, an awesome addition to an otherwise blank wall
Impeccably clean - this place is immaculate, so clean I think Katie would move in!
Take a walk from LB2 all the way up Little Collins Street to the top of the Paris End and check out older brother Little Bean Blue when you get a chance!