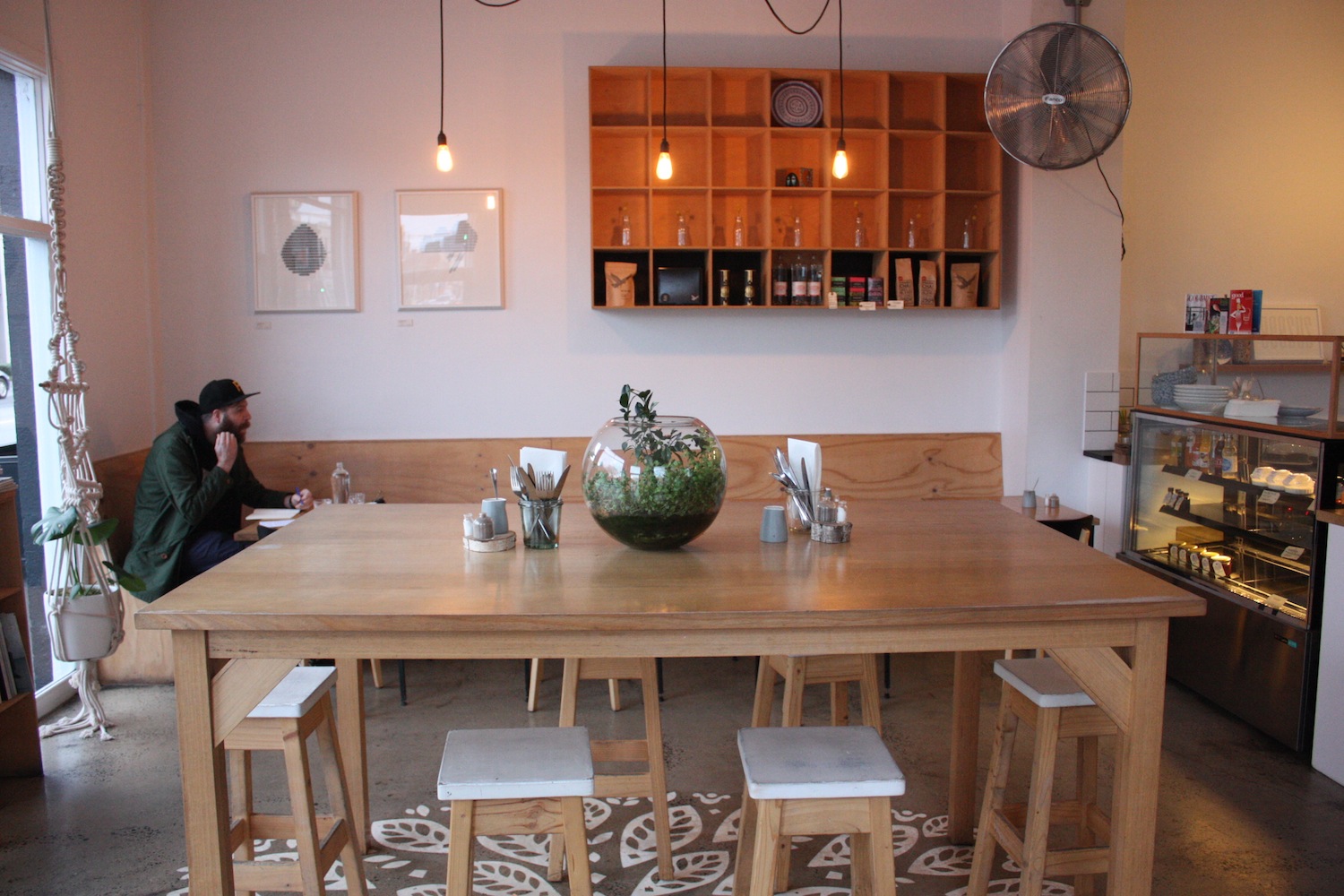 Name: The Fair Foodstore
Address: 35 Church St, Richmond VIC 3121
Web: http://www.thefairfoodstore.com.au/
Served by: Terence & Hannah
Owned by: Sarah Masny
Is it unfair that Terence and Hannah get to wake up bright and early in the morning and go to work in an uncluttered and simple, yet refined café? Is it unfair for the locals to drop in for the morning coffee and be greeted by name, only have to say 'the usual', and Terence gets to work making their coffee. Is it unfair that we got to check out this café for our review this week? Actually, none of the previously mentioned things are unfair. In fact, it's all fair, very fair indeed! Specifically, it's The Fair Foodstore in Richmond.
So what's good about The Fair Foodstore?
Super Tectonics has driven around the corner that The Fairfood Store inhabits and so we'd spotted in multiple times previously. And we don't often comment on the graphics or branding of a café first thing but today we will. The Fairfood store logo is simple and blue. It looks hand drawn and the font is matched in a similar style. It's decorative, but not overtly – it's quite simple in fact. And it is used in a simple manner, setting up a simplicity that flows through the front door and into the interior.
The simplicity of the interior is most definitely not 'high design' but what it is, is good design. The humble plywood banquettes that hug the walls, matched with pine timber stools and slabs of timber across the tabletops reek of un-pretension. Large, welcoming window openings allow an abundance of natural light to flood the space, making the café feel warm and inviting. And the adorned polished concrete floor provides a painted decal rug under the high communal table.
The furniture choices are also simple and considered. Pine leg tables and thin profile black painted steel leg tables match nicely with the timber and hard black plastic chairs. A good choice in a hospitality environment, and good to see a bit of black in an interior used subtly.
The Fair Foodstore is what we would describe as having a 'no' colour palette. It's all white or black… or timber. Which seems to work ok. Especially with the logo in blue to just add the hint of colour to the space. But you know what The Fair Foodstore does well – and I don't think they've been taking their cues from The Block – art! The crazy thing is we didn't take down the name of the artists, but they have some killer lino prints on one wall, and some amazing photography framed on the other walls. All monochrome, and all very well selected. A rarity in cafes, where we typically see some incredibly average art that brings down the whole interior.
The spatial arrangement of The Fair Foodstore feels good; circulation works well and there is a few different spaces for people to linger whilst waiting for Terence to make their coffee. There is a good balance of different seating arrangements and the splitting up of the food service area and the coffee service area into two counters works very well as it means there won't be a massive build up of people waiting for coffees or waiting to pay for their meal. And there is a small variety of pendants hanging throughout the space - all on black cord, with some lazily hanging over protruding pipe work that has been installed across the ceiling.
What could be better about The Fair Foodstore?
Is it too harsh to say that stairs to a kitchen area might be a bit of a bother for staff? Although to be honest we didn't ask the staff if it was difficult carrying multiple plates of food down those stairs, and it's not like the whole building could be levelled out to remove them.
And dare we say that it's a space that seems afraid of colour? We know that choosing colours can be a trend-based dilemma, but some accessories in colour could brighten even more an already happy environment.
Finally, we think that the height of the space is under utilised – especially with the protruding pipes just waiting to have elements suspended from them. We see this as an opportunity though, no too much of a negative.
What's its thing?
To use a completely worn out and tired expression – 'the simple things are often the best' might seem like a cop out when describing 'the thing' that works for The Fair Foodstore. But it really is that simple. Simple design, simple materials, simple colour scheme – enough said.
Defining Design Details
Protruding Pipe work – just an opportunity begging for stuff to be suspended from these ceiling mounted pipes..
A family of pendant lights – a few varieties hanging around the place, with some lazily dangling over the pipe work.
Banquettes with an angled back – when you've gone for plywood box style banquette seats, everyone appreciates that 5 degree incline to the back so you can relax and sit back.
Painted pattern in the concrete floor – it's rare to see patterns painted on floors that work, but this one isolated below the communal table creates a nice zone.
Awesome artwork – now this one is even rarer, Super Tectonics will definitely have to go back and get the name of the artists.
When you arrive at a café just when they've opened first thing in the morning, you get to experience the place as it begins to wake up – the smell of fresh coffee, the noise of the coffe machine and the increased banter firstly amongst staff and then between staff and 'the regulars'. The Fair Foodstore has created an environment where good food is matched by a welcoming environment – and that to us is the essence of good design.