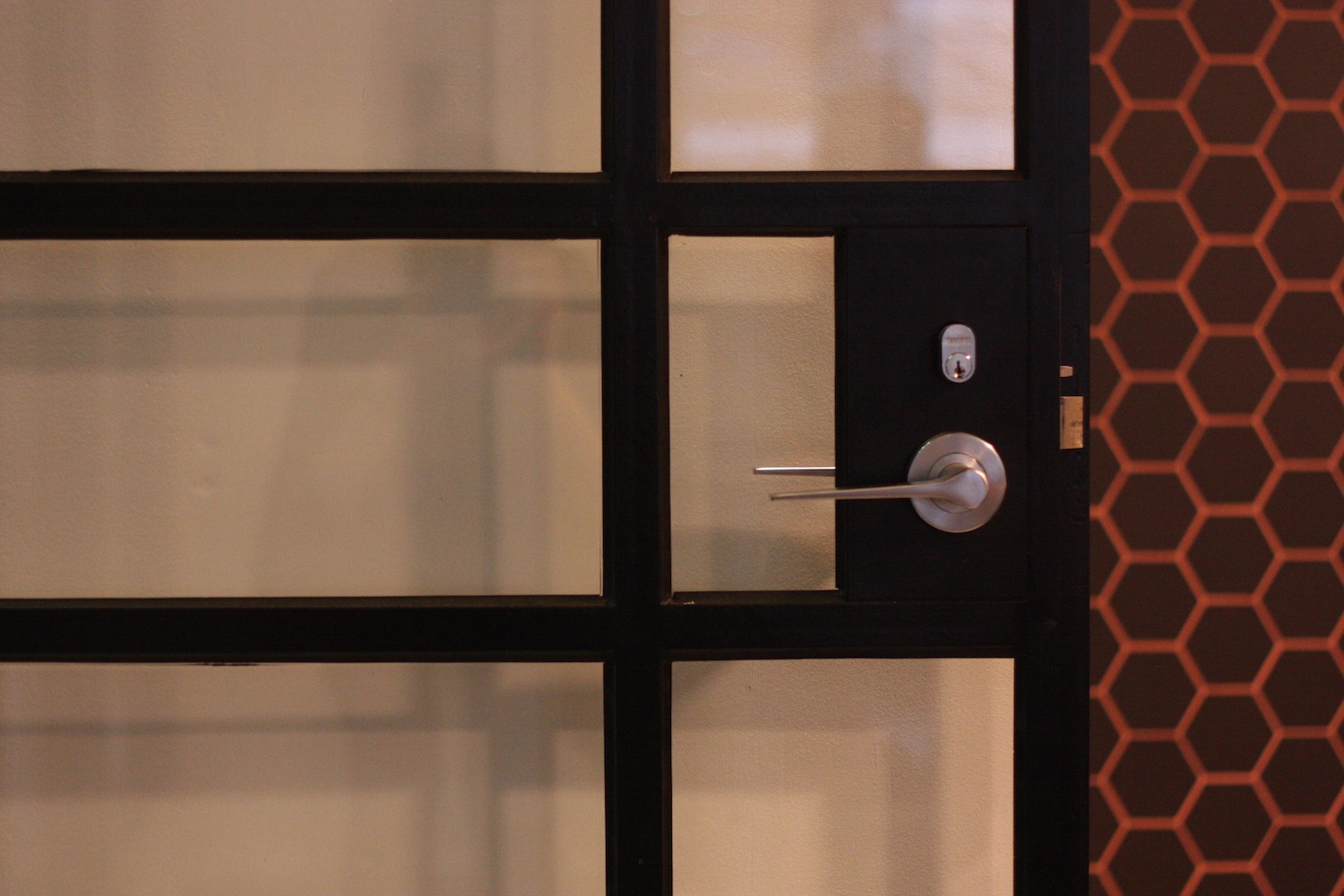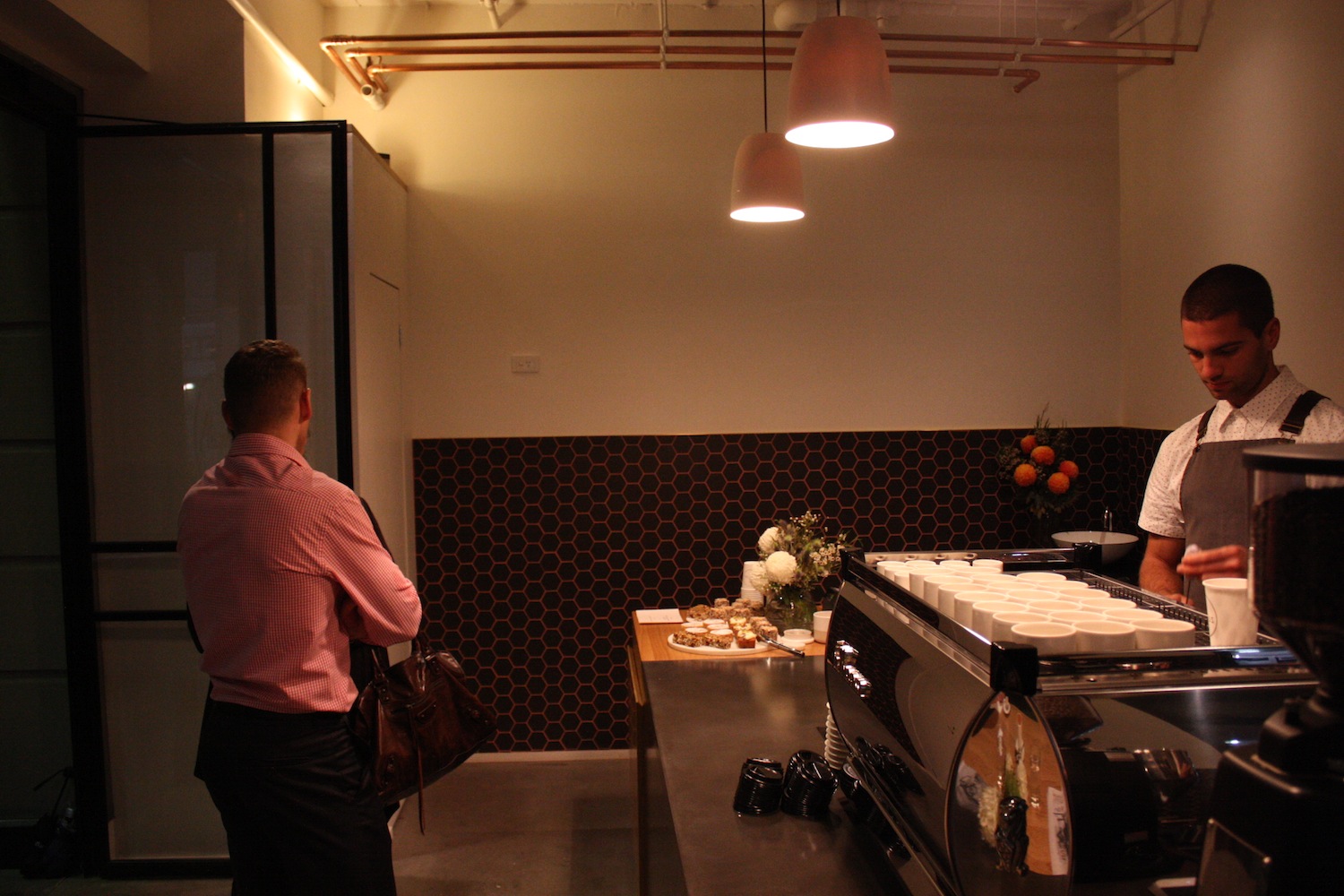 Name: Altius Coffee
Address: 517 Flinders Lane, Melbourne VIC 3000
Web: http://altiuscoffeebrewers.com.au/
Served by: Hannah and Jarrod
Owned by: Hannah and Jarrod
Designed By: Hearth Studio
Earlier this week, Melbourne had the craziest storm since I moved here almost two years ago. Cracking lighting, thunderous growls and torrential downpours. Luckily however, amongst all this weather chaos team Super Tectonics found ourselves huddled in Altius café, a glowing beacon of light where we were high and dry in the best location possible.
So what's good about Altius?
The name - Altius. Altius is the Latin term for Altitude and is a direct reference to the Olympic Motto of Citius, Altius, Fortius or the more familiar; Faster, Higher, Stronger. Owners Jarrod and Hannah met at Little Athletics years ago and their shared passion (addiction?) for running has also evolved to a shared passion (addiction?) for coffee and thankfully, Design. Continuing the theme of "Altitude", the high quality design and finishes in the café can be attributed to the brilliant Hearth studio.
Now, for a place that offers coffee and only limited delicious morsels, the interior design (and brilliant service) is what keeps you here longer than expected. The footprint of Altius is small and Hearth Studio has created a simple symmetry and balance within the space. The high ceilings make you feel like you can breathe in what would otherwise be a cramped space at capacity, and this continuation of the walls upwards allow your eye to explore the pipes, paint and crevices, all with washed with a warm glow of light.
As you walk in the space, the central joinery bench takes centre stage forming a food display area, point of service/sale, takeaway zone and coffee making area. The design is compact but kept immaculately clean and therefore and feels lush and sophisticated. It is beautiful in aesthetic and form – with a Concrete Blonde bench top and finely detailed timber veneer cupboards to the front, cleverly concealing a handy storage area for coffee bean buckets within. Nifty in bench jug cleaners and a modest 2 carton milk storage area recessed into the bench top keeps milk in handy reach but tidily out of the way. Whilst the polished chrome coffee machine references (although unintentionally, but quite nicely) the polished chrome glazing suit to the entry side of the café.
The back of the island bench (despite missing some doors that will soon be delivered to site) is yet another lesson in practicality. With no cold goods to refrigerate other than milk, Jarrod and Hannah store a limited supply of on hand cartons in a compact refrigerated area under bench, whilst majority of the milk store is located within the main commercial tenancy adjacent to the café. This is a clever spatial planning decision that has resulted in freeing up a huge amount of space with no bulky fridge taking up crucial joinery real estate. This creates a beautiful bench height datum throughout with no vertical interruptions or joinery protrusions.
The rear wall joinery unit offers more storage but frames one of the many hero's of the space – the amazing hexagon tiled splashback with a copper come orange grout running the perimeter. This rear joinery also houses a very domestic above bench hand washing basin (required by law and code) which provides a beautiful vignette with fresh flowers, and a delicate hand towel which speaks volumes of elegance and warmth.
There is so much right about the design of Altius and it comes down to A) A brilliant design team with a fine eye for detail and B) Brilliant owners who will work in the café that also happen to have a fine eye for detail. The ability to be realistic about budgets and compromising on what is the priority is also another strongpoint.
Delicate Mud sculpted pendants in a dusty warm hue hang above bench. Beautiful brassy gold handles and hooks by Rowsaan are positioned around. Commissioned ceramic crockery from Chris Plumridge is beautifully tactile and don't get us started on the beautiful aprons as well! All of these are priority items for the Altius team to invest in and these speak volumes about the quality of service, design and brand. However, on the flip slide, the plates are simple Country Road, stools are from Jimmy Possum, which also show that the fit out is realistic and not overly extravagant.
What could be better about Altius?
Not a lot, but we designers are a picky bunch! There is an unfortunate powerpoint on one of the walls that sticks out rather abruptly. The foot pedal to the rear basin sticks out and looks odd. Getting around this would be difficult though. The hanging plant at the rear of the space looks under whelming. Potentially changing the hanging mechanism will set it in place more i.e. a rope or something more decorative. Aside from that, there were a few other things, but given Altius has only been open for three weeks, these minor details are being addressed .
What's its thing?
That old chestnut – the cafes that work best from a design perspective (spatially, functionally, aesthetically, emotionally) are the ones where the people behind the counter have been actively and intimately involved in every single design decision surrounding the fit out - and it shows. Hannah and Jarrod painted the ceilings and then stripped it back, they helped design the crockery, they came up with the name of the café and they bought the stools before they even had a tenancy! Everything in that tiny little footprint has meaning to it and when this happens; success.
Defining Design Details
That name and that logo – Conceptual, emotional and damn that's some refined graphic line work!
Coloured grout – is it copper? Is it pink? Is it orange? Who cares, it is ridiculously amazing.
Sans Fridge – the best design decision they made, the whole space benefits from it.
The Datum – The Hex tiles spatially cut the vertical space perfectly and separate elegant refined on the lower half and industrial worn chic on the top!
The Altius team (and Hearth studio) have created an exceptionally balanced interior and brand. And given most of the renovation works was painstakingly done by Hannah and Jarrod themselves, you can see the heart, the knowledge and the passion they have put into and it really is to be experienced.