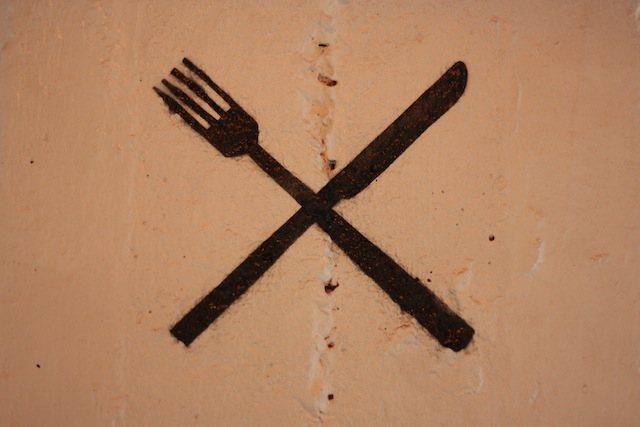 Name: Kinship & Co
Address: 540 Little Collins St, Melbourne CBD (Corner of Gallagher Place & Victoria Place)
Web: https://twitter.com/KinshipC , http://instagram.com/kinshipandco
Served by: Goran
Design by: Goran
Diamond in the rough. That's how we'd explain Kinship & Co Café. Except that in this "rough" area of Town (the notorious King St. Night club scene), Kinship & Co is one of a few diamonds popping up around the place (see Project 52:04 - LB2). But for us at Super Tectonics, this one sparkles the most.
So what's good about Kinship & Co?
It's small. Not the smallest we've seen in Melbourne, but pretty tight. And the reason being, it's an old substation. Delightful owner Goran picked up the lease at the start of the year and not only designed but built everything himself. The height of this space is amazing and Goran has accentuated this by penetrating the existing thick brick envelope and adding with some double height glazing and wonderful timber sliding doors. The natural light this brings into the space is so successful and when you add some great wall mounted lamps their warm glow makes the space feel bigger than it actually is.
Here at Super Tectonics, we think it's dangerous to design with trends, purely because environments can date so quickly. Add to this the over-use of the term "On-trend" and we're definitely off trend with it all. However, in saying that Kinship & Co is ridiculously "On-trend" but touché to us, it works, and it works damn well. There's a lot going on in this tiny space, so let's start with the materials.
There are two types of pressed metal sheeting, one coloured a creamy green, the other crisp white. They are used as a splash back, front counter detail and framed with timber, too much? Typically yes, but their matt finish takes it back a step, creating a great depth highlighting the beautiful patterns. Salvaged sheet metal off cuts are mounted to the wall for textural effect or to provide a backdrop for some hanging plants. They are different shapes, and textures but against the crisp white brickwork, they pop with richness.
One entire internal wall is clad with white horizontal weatherboard, giving the interior a real suburban feel. Add to this some rusty wrought iron pieces highlighting the vertical planes of the sliding door with some hanging pots and you feel like you are on someone's veranda, but inside at the same time.
There's a cacophony of seating. Industrial stools at the high bar area, agricultural in appearance but with slimline ply tops, finely bent steel bases and beautifully welded joints, they are perfect for small spaces - fine and not obscuring your sightline. The inside chairs are retro vinyl white, but in a premium condition so they look divine. Fun coloured stools on the path and timber tables get some of the richness inside, to the footpath area where you have a great overflow space on sunny days.
Brightly coloured ceramic game heads on walls, hanging plants, pots of green, and touches of pink and weathered distressed timber. In theory it should all be too much and send any designer screaming, but because the space is so small, Goran has exercised great restraint and only used small amounts of everything and as a result, it's balanced pretty much perfectly. And a happy accident from this "stuff" is that the acoustics are great, lots of things to bounce noise off and given the space is so small, you can't fit a huge amount of people in their to make lots of noise anyway, so win-win on all fronts!
From a planning perspective, Goran's done well to get maximum efficiency out of the space. A great "pod" in the back left corner conceals a super tidy kitchen and back of house area from view. The counter/bench is a tidy design with great in-bench jug cleaners and coffee grind disposals hidden in the bench perfectly. Seated at the high bar looking out the window is pure heaven when the sun filters in, but in my eyes Goran and his staff have the best seat in the house. Standing behind the counter looking back out the entry of the double height glazing. This view frames the passing traffic, architecture and sky beautifully and it's great he gets to enjoy the space whilst working there too.
The branding of Kinship & Co is tidy. Just like it's interiors, it's pretty "On trend" with the "& Co" a popular addition with lots of cafes and creatives embracing the tag of late. Add to this the crossed cutlery graphics, which are not uncommon either. But Goran has really cemented the brand with the great old school sign writing out the front and the stencilling of the cutlery inside and out. So although it's not revolutionary, it's certainly in line with the Kinship Brand and Goran has addressed this well.
What could be better about Kinship & Co?
Nothing. Absolutely nothing at all. Goran did however speak of some future ideas for the cafe, for example, turning the dis-used space above the pod into an office, adding more hanging plants and mounted wall art. With so much happening in the space as is, it's balanced perfectly at the moment, but one more addition could spell disaster. Our only advice to Goran is to add any new features with caution and to do so slowly. If it doesn't work - take it out, simple.
What's its thing?
Goran. Goran is its thing. And this isn't to diminish the design or key features; but it's all him. He understands every single inch of Kinship & Co from the coffee, to the food, the space, the neighbourhood, the people. And when that happens, you get places like Kinship & Co where you feel like it's a familiar favourite, but exciting and new at the same time.
Defining Design Details
Wall mounted lights – desk lamps refashioned and mounted to the wall look great!
Double height glazing – the light it brings into the space is just ridiculous.
Efficient planning – under all that great styling, there's the bones of a well-planned environment and it just gets us Design Nerds excited.
Homely details – the addition of little things like a pink timber painted doorknob to the drinks fridge, remove that "cold" hospitality edge and make you feel at home.
Inside out - you can duck away in a corner here, be on display in the high bar or sit exposed out the front – so many options for such a small space.