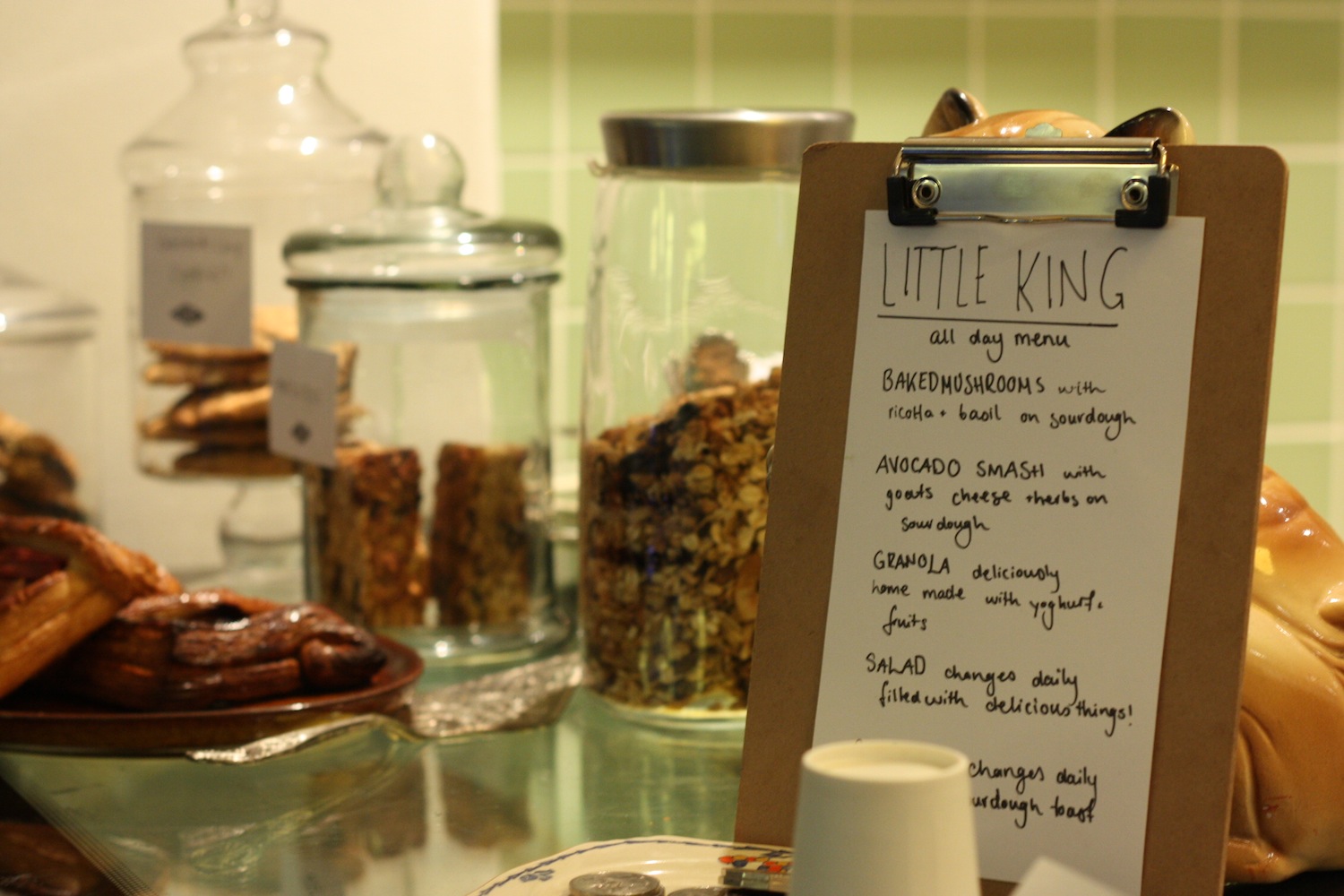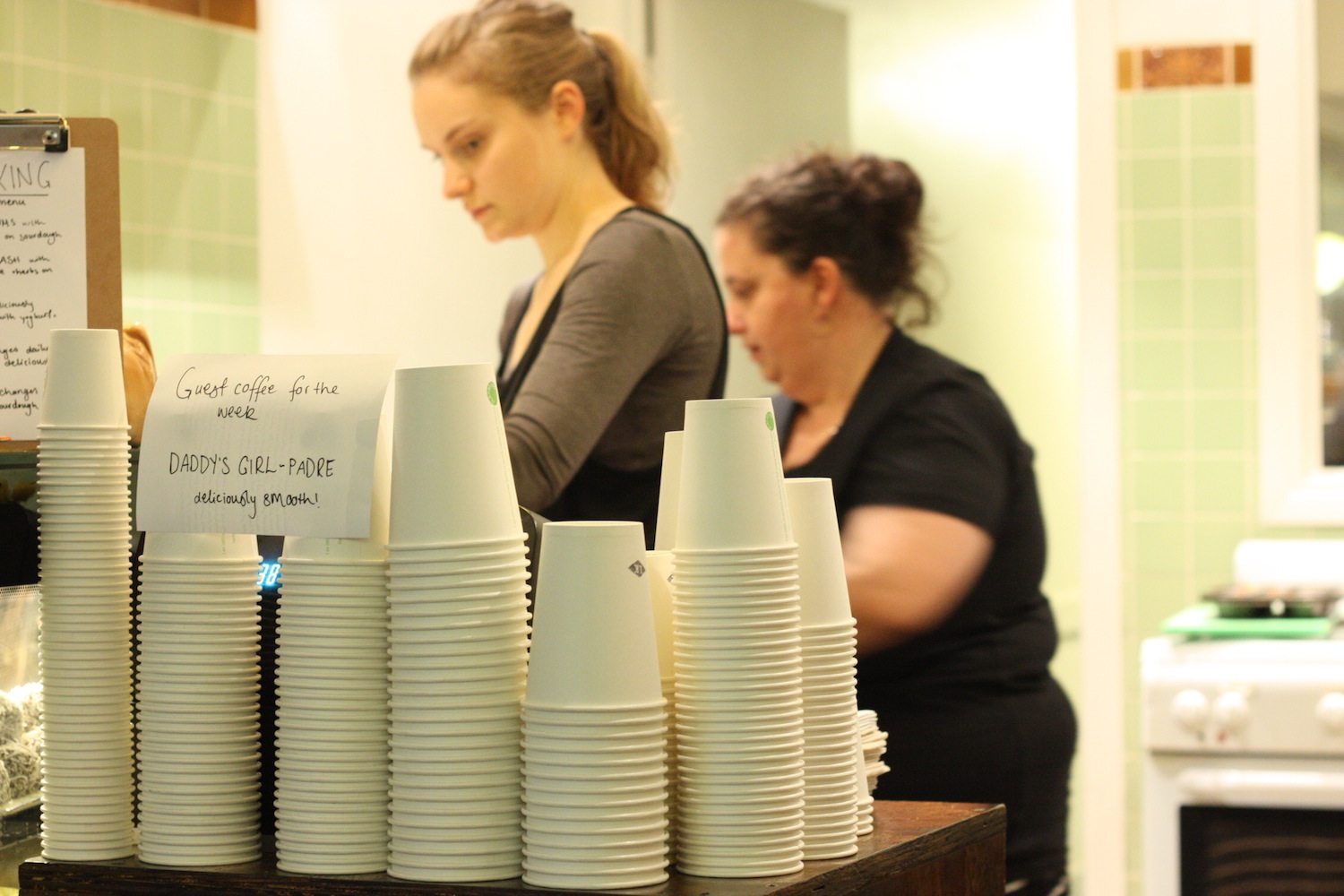 Name: Little King
Address: 4/209 Flinders Ln, Melbourne VIC 3000
Web: http://littlekingcafe.com/
Owner: Theodora
Served by: Meredith
The word quaint comes to mind when I thought of how to best sum up Little King. It's this tiny thing – you just want to pat it on the head. Which is totally appropriate in contrast to the looming archways and spires of St Paul's Cathedral that Little King shares a laneway of sorts with.
So what's good about Little King?
The domesticity of Little King helps create a wonderfully informal meeting place for local suits and scholars. Inside it seats - with a squeeze - perhaps 8 people, with an additional 10 stools outside in the archway. When you approach this hidden enclave the most obvious and defining feature is the lace curtains that border the windows alluding to a warm and inviting space within. And inside this atmosphere matches the lace perfectly. There is soft lighting and soft music, which in turn seems to breed soft conversation amongst the steady stream of people coming and going for their morning coffee.
The finishes in Little King are simple. In the customer area, it's timber floors, timber tables and timber seats. This is not furniture and finishes selected from a high-end café furniture supply company, and nor is it over embellished with crafty detail. Simple mint green paint has been applied to give the chairs socks, and the table legs a lick of paint. The lighting to this area is minimal and thankfully devoid of down lights! Lovely glass pendants hang in front of the storefront window and this provides enough light for a cosy atmosphere.
Likewise the service area is fitted out with a selection of finishes and fixtures appropriate for a working space. The flooring looks to be a light coloured marmoleum and all joinery is a dark stained and hard wearing plywood with detailing reminiscent of a domestic kitchen. A domestic oven to the rear of the space totally looks the part. And in this space there is a combination of singular glass pendant and down lights. But for this functional area, it is totally appropriate! (I know, I hate to say it… but these down lights totally work) The bulkhead between these two spaces seems to assist in defining customer area and service area. A further link back to those domestic roots is the tiling to this space. Square pistachio tiles are bordered by a Ye Olde English style coffee coloured tile. This is a tidy area and appears to work ok for two people to work in at the one time.
Outside seating in contrast is all steel and timber. It looks hardwearing, and capable of braving the harshest of Melbourne's winter weather.
What could be better about Little King?
There are some things that seem a bit unfinished. The significant 'block' of pine inside the sliding door is unpainted and appears to be completely out of place in the space. No doubt when a free weekend comes up Theodora will get around to painting it.
It also seems an odd height to install the overhead shelves to the service area. Theodora seems to be getting lots of mentions in this edition of Project 52, but in this instance it is worth noting that she is not the tallest and these shelves appear to be out of her reach. And whilst a bespoke style of table for the customer area is full of character, wonky legs makes for awkward eating. There is some logic in using the legs with adjustable feet on them for hospitality projects (but in this case, I'm definitely not requesting a change!)
Speaking with Meredith whilst she made coffees she commented on the main counter. The fridge section is quite high and creates a slight barrier from the service area, and the gap between the counter and the coffee machine joinery is too narrow for 2 people to pass through at once. I'd have to add in there that all the coffee cups on the front counter might be great to camouflage a cash register, but they're just another barrier between the customers and the staff.
From a brand perspective, it's all a bit inconsistent too. The logo – the LK flag – is fun and striking, but it does not flow through the rest of the 'branding'. There is only 1 menu on the food fridge, which is handwritten and a bit lost amongst everything else and the LK on the coffee cups is subtle, but is different again from the logo at the entry. I was informed that all this was being looked into very soon which is great to hear.
What's its thing?
In the hustle and bustle of a busy city like Melbourne, many people might like to take refuge amongst the pews of the Cathedral. But for many of us, a place to meet, have a good chat with a friend and drink good coffee in a warm and inviting atmosphere is all the refuge we need.
Defining Design Details
Lace – in all its glory. Taking pride of place in the windows of Little King.
Lighting – we like to comment a lot on the lighting, and Little King gets the lighting for the service area and for the customer area spot on.
Zoning – in some ways this is kind of covered in the lighting description. But the difference in finishes, lighting and even ceiling heights makes for two spaces that have their own atmosphere appropriate for their function.
It was nice just to sit in Little King and chat with Meredith and Theodora. It was exciting for us to hear the Meredith had in fact read our Project 52 blog before! And it was interesting to hear that four weeks ago Theodora took over the ownership of Little King. So she has plans for this little café, including the potential to get a liquor license and open late to catch all those evening theatergoers looking for a quick pre-show meal.