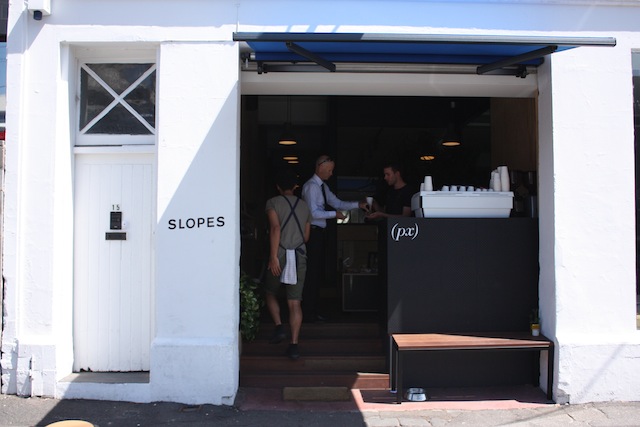 Name: Place Holder
Address: 9 Smith St, Fitzroy
Web: http://www.placeholdersmithstreet.com
Served by: Sonam & Sam
Design by: Sam & Sonam
"Contemporary users of temporary spaces. Facilitators of speciality coffee". This is what the Place Holder website states and in a nutshell, it pretty much covers what they do. But Place Holder - yes it's about the size of a nutshell - is so, so, so much more. Here at Super Tectonics we fought about who was going to write this review, why? Because Place Holder is Design Nerd heaven. So please join us, as we introduce you to Melbourne's new wave Design Gods.
*Warning – we've gone well over our own self-imposed word limit for this review. Apologies, but it's worth it.
So what's good about Place Holder?
It's got a shelf life. 8 months to be precise. So hurry up and go see it! Place Holder is in a unique position, literally. The café is located in what used to be an old mechanics, but the building itself is the future residential development site for Neometro (one of Melbourne's most Architectural and Design focused developers). Once inside, Place Holder's immediate backdrop is the sales display for the Neometro development. Whilst at the rear down a beautiful ply clad hallway sits an art gallery aptly named 'Slopes', referencing the old mechanics ramped floor levels that all three inhabitants of the site had to work with.
So Place Holder is just that, it is…a holding place.
Even though Super Tectonics is only up to Project 07 of Project 52 (that's right, we still have 45 more projects to review in 2014) a glaringly obvious trend is emerging: the environments that we have reviewed thus far and deemed as the most successful have one thing in common; the people that work in them day in day out, also designed them (See project 52:05 Kinship & Co). As a result, processes are designed into the environment and the spaces just work, effortlessly - or so we are lead to believe. However chatting to Sam and Sonam, it's not as effortless as it looks.
Aesthetically Place Holder isn't pushing any envelopes. It's familiar ply aesthetic is all around town at the moment, but it's use of ply as a material is just so damn appropriate for a café that's going to be gone in less than a year. A smart, economically efficient yet delightfully tactile material. But for those who think ply is cheap and nasty (we can see where you are coming from, but we curse you at the same time) one has to walk through Place Holder to arrive at the Neometro sales display and as a result, the finish needs to reflect a premium product. So the boys have carefully selected materials, objects and fittings that add a little pizazz (yes I just said pizazz) to this understated palette.
Custom designed bar stools from Tovim Design, complete with a gold metal footplate evokes a Tom Dixon inspired metal reflection to the space. A heavy, turned timber stool anchors itself to the rich timber decking, balancing the lightweight pegged stools either side of it. An oversized tree in a heavy, concrete pot seems oddly out of place tickling your head as you sit near it, but it works magnificently as a screening device between café and sales display softening the timber interior.
Oversized full height glazed panels with bold, black framing compliment the black formwork ply joinery ridiculously well. The two spaces are framed beautifully independent of one another through this glazed system, separate entities that coexist beautifully together.
Super Tectonics favourite Ikea pendant Hektar hangs throughout the space in various locations. A matt black curved tap protrudes from the black metal bench top, which has aged beautifully with a rich patina of scratches and outlines from cold glass condensation and coffee rings. There's just the right balance of utilitarian materialism combined with pops of glamour that create moments of interest in the tiny space.
So aesthetics aside, lets get our design nerd on. And this is where Place Holder excels.
The large coffee machine was powder coated white so as not to dominate the tiny space with it's massive form. The machine now resembles a Storm trooper which Sonam declares quite proudly. But this particular model of machine was selected for it's unique upper flat shelf – allowing coffee cups to be placed here instead of taking up valuable, limited bench space.
The main joinery element is designed as a mini-galley kitchen. From years of experience, Sam and Sonam needed 800mm between the two units, perfect circulation space for two people in this zone. The coffee machine, fridge, bins (two milk crates stacked vertically), pre made takeaway trays, easy access milk store and mini cash register, are all located in one main unit. Carefully concealed from the street behind black peg board with unassuming white vinyl Place Holder signage and first impressions from the footpath are tidy.
The opposite joinery, the Island Bench is four-fold in it's design approach:
Sonam described in passionate detail how this bench was designed so that when one sits down, it's like you're sitting at your friend's kitchen table. So as we perched upon the beautiful crafted stools, at the 900mm high bench discussing Place Holder in great detail with Sam, Sonam and their good friend and fellow Barista Maddy, it felt very much like we had been invited over for morning tea, hanging out in the kitchen with new friends watching coffee get made.
The bench has an integrated sink, hotplate and two sets of scientific like scales – this isn't a McCafe people. You come here to drink third wave coffee but with without the egos and the drama. The ritual and process of coffee creation celebrated on view like a traditional tea ceremony or when Sam and Sonam's coffee nerd friends visit everything is within arms reach so they can lean across and work the coffee themselves while the boys serve visiting customers.
Storage under bench: A messy back of house is Super Tectonics pet hate and unfortunately, Place Holders mess in on display for all to see, but it's clever saving grace was…
The glass corner food display - It completely distracts you from the mess beyond!!! This gorgeous glazed cube perches delicately on the corner joinery, so delicately in fact that apparently last week it got knocked off and broken by an a certain Scottish lass who shall remain nameless. It houses the most delicious but basic offering of sandwiches, treats and morsels and Sonam explained in great detail how it's materiality and position on the corner of the joinery unit was very intentional. It allows uninterrupted sightlines from the footpath, through the glass food display, past the planted tree, through the glazing and into the display suite itself. Yes, they considered this – for real. That's how committed they are.

What could be better about Place Holder?
You know you are dealing with perfectionists when they get excited about telling you what's wrong with the space so when they do the next Place Holder, they can improve.
The café was conceived as a takeaway venue, but due to its great design, amazing service and wonderful atmosphere people just want to hang out here so it has evolved into a destination. As a result this means inadequate crockery storage, clean and dirty. It's a small space so it gets messy quickly, however because it's so small it can be cleaned up quickly which is a positive.
The in-bench milk jug washer and integrated sink were powder coated black to match the black metal bench top. But in the few weeks since Place Holder has opened the edges have become worn and chipped. So next time the boys will stick with the basic Teflon coated stainless steel finish.
The in-built scales and hot plates on the main joinery bench aren't finished flush. There's some exposure of the substrate below and it looks a little untidy but this was Sonam being brutal on himself. We were so drunk on design at the time that we wouldn't have picked any negatives up.
What's its thing?
Are you actually asking that question? Refer to previous 1358 words. And then call us for a chat, because there is so much more detail we had to leave out because we're over limit on the word quota.
Defining Design Details
Ikea Pendants – Scandinavian design accessible to all at budget prices. Win Win.
Mobility - After 8 months at this site Place Holder will reform in a new location. So although Place Holder Smith Street will be distant but very fond memory, Place Holder TBC will appear in a new suburb, with a new design, a new identity but still have the same two amazing minds behind the innovative concept that we love.
Sam & Sonam - In our eyes, they are considered a Design Detail. The passion these two have for refining design, planning efficiencies, iterative processes and streamlined operations is just ridiculous. They will never be satisfied with anything they do and it is this desire to evolve that is purely intoxicating.

*Super Tectonics are so impressed by the level of detail design that has gone into Place Holder that we are going to propose to Sonam and Sam if we can complete a case study of Place Holder Smith Street - much in the same way that Atelier Bow Wow would document a case study, technically, but from a graphical perspective. So what do you say Sam and Sonam – can we do a case study of Place Holder, and maybe have your design babies?